Kumar said he had no option but to walk out of the grand alliance as continuing in it would have meant compromising with corruption.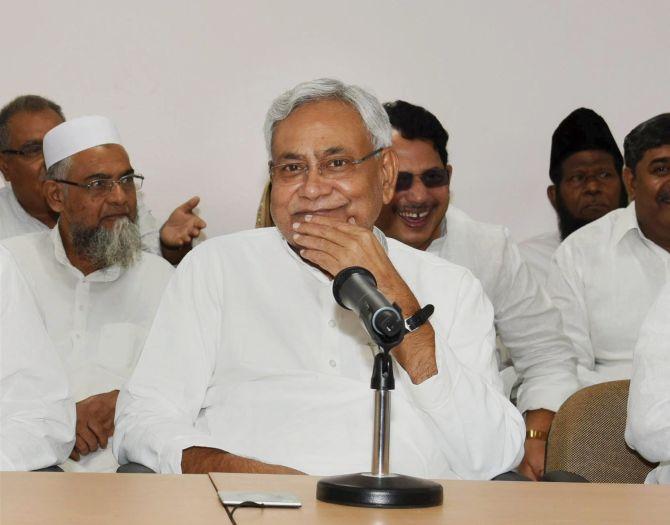 Bihar Chief Minister Nitish Kumar, who dumped the Grand Alliance with the Rashtriya Janata Dal and the Congress to form the government with the National Democratic Alliance, on Monday said there would be no
challenge to Prime Minister Narendra Modi in the 2019 general elections.
"Nobody else can occupy it (PM's post)," he told reporters while responding to questions about whether Modi would return to power in 2019.
"Now nobody has the strength to take on the prime minister," he said.
Quizzed about his future role in national politics, Kumar, who heads the Janata Dal-United and was earlier seen as a potential challenger to Modi in 2019, said, "Ours is a small party which does not harbour big national aspirations."
When asked about the possibility of JD-U becoming part of the NDA at the national level with ministers in the Modi government, Kumar said the JD-U national executive will meet in Patna on August 19 and all such issues will be decided there.
When reminded of his remark while breaking away from the NDA in 2013 that he would "rather be decimated than join hands with BJP", he said, "That was in the context of that time."
Kumar spoke at length about events leading to the break-up of the Grand Alliance and his accepting the proposal from the "highest level" in the BJP for joining hands to form the government.
The chief minister said he was left with no option but to dump the Grand Alliance when the going got impossible. He said the decision to forge an alliance with the Bharatiya Janata Party was made "in the interest of Bihar".
He also hit back at RJD supremo Lalu Prasad and Congress vice president Rahul Gandhi for criticising him.
"He (Lalu) arrogantly says that he made me the CM ... The people of Bihar showed him his worth in 2010 (when RJD's strength was reduced to 22)."
"The decision (to dump the alliance) did not come overnight. I repeatedly swallowed objectionable comments from the other side (RJD), including one by one of its leaders (former MP from Siwan Mohammad Shahabuddin who called him 'a CM of circumstance'). Lalu Prasad ignored it, saying it is an internal issue of his party."
"JD-U leaders never spoke against the RJD supremo but leaders of that party always made objectionable comments against me, which I tolerated in the interest of the coalition. There used to be interference in good governance too but we managed to keep the development momentum," he said.
But, Kumar said, once the issue of corruption came to the forefront with CBI registering an FIR against Deputy Chief Minister Tejashwi Yadav in a graft case, he could not carry forward the alliance any more.
"I, while supporting demonetisation, had made a strong case for simultaneous hit on benami property. I had no ground to defend them."
"I had talks with Lalu Prasad on several occasions when I told him to explain things in public (about the allegations) by putting facts, but it seems they (RJD) had no explanation," he said.
He ridiculed Prasad's secular credentials. "Making huge money hiding behind the shield of secularism ...is this secularism? ... I need no certificate of secularism from anybody."
Kumar said his government had given compensation to the victims of the Bhagalpur riots on par with those of the 1984 anti-Sikh riots.
Hitting out at Lalu for his repeated claim that he made him the chief minister despite his party having more MLAs than the JD-U, Kumar said it reflected the RJD leader's "arrogance".
"Why did they not declare my name for the CM's post at the meeting at Mulayam Singh Yadav's home during talks over unification of the old 'Janata Parivar'. It was done after a month. It was in their own interest," Kumar said.
Recounting his association with Lalu, Kumar spoke of how he helped him win the election of the Patna University Students Union president. He also spoke about having mobilised non-Yadav MLAs to back Lalu's chief ministerial bid in 1990.
On reports that senior JD-U leader Sharad Yadav was upset over the party joining hands with the BJP, he said, "It is not necessary that everybody always agrees on everything. One can have divergent views. The decision to break the Grand Alliance was taken by Bihar JD-U at its executive meeting which I had to abide by."
"The JD-U is registered with the Election Commission as a regional party in Bihar and hence going against the decision of the state party was not possible for me," he said.
He mocked at Rahul Gandhi for claiming that he had an inkling that Kumar would walk out of the coalition for the last three to four months. "Then why did he (Gandhi) meet me when I had gone to Delhi and sought his intervention...to ask the RJD to come clean on the accusations.
"The Congress did not act on time in Assam also when AGP had come on board. It cost us the Assam polls," he said, adding "we can be a partner but not a camp follower."
Kumar said he would continue to make efforts for a special status and financial package for Bihar.
On the issue of vice-presidential election, Kumar said that the JD-U will support the candidature of Gopal Krishna Gandhi.
"We have already given our word to him," he said.
Earlier in July 2015, Modi had also attacked Nitish over his frequent change of political allegiances, saying it seemed that there was 'some problem with Nitish Kumar's DNA'.
With inputs from ANI
Photograph: PTI Photo