Former Union minister Y S Chowdary says TDP chief Chandrababu Naidu is talking to various political parties to gather support for the party's no-confidence motion against the NDA government. Rediff.com's Prasanna D Zore reports.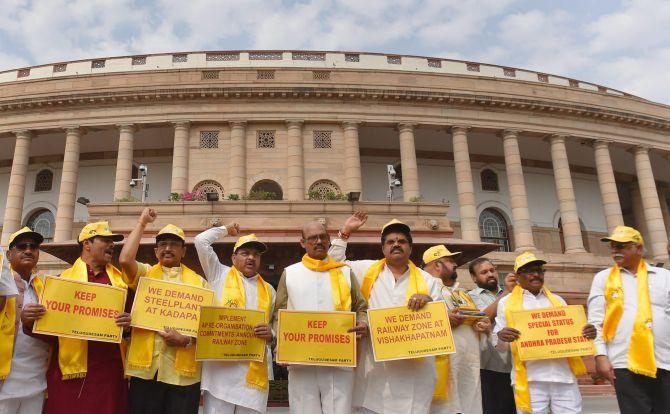 IMAGE: TDP leaders hold placards and raise slogans demanding special status for Andhra Pradesh at Parliament House in New Delhi. Photograph: Atul Yadav/PTI Photo

Y S Chowdary, the former minister of state for science and technology, and earth sciences who, along with Civil Aviation Minister Ashok Gajpati Raju, resigned from the Union Cabinet on March 8, dismissed the Yuvajana Shramika Rythu Congress Party's no-confidence motion against the Centre as "non-serious".
"The YSRCP's no-confidence motion is non-serious in nature; they just have five MPs in the Lok Sabha," the Telugu Desam Party's Rajya Sabha MP told Rediff.com's Prasanna D Zore on the phone.
Chowdary was equally dismissive of Andhra Pradesh Congress Committee president N Raghuveera Reddy's support to the TDP and YSRCP's no-confidence motions.
"There is nothing for them. Only the Congress (national) president can take a call on this. The Congress is not there in Andhra Pradesh. It has zero Lok Sabha seats from Andhra Pradesh," he said.
Chowdary said that TDP president and Chief Minister N Chandrababu Naidu was in touch with various political parties to enlist their support against the NDA government.
"My president is talking to various political parties and we will only know on Monday how many of them will support our motion."
He said he was not sure if the no-trust motion will be put to vote on the floor of the House on Monday. "I don't think it will be put up for vote on Monday. It may happen on Tuesday," he added.
When asked if the TDP's no-confidence motion was only a reaction to a similar motion tabled by YSRCP's Y V Subba Reddy and in the absence of adequate numbers the vote will be defeated on the floor of the House, Chowdary said, "This no-confidence motion is just a way to discuss how the people of Andhra Pradesh were denied their just rights and how the BJP broke promises. We would want to discuss these issues on the floor of the House and so we have tabled this no-confidence motion. The rest of the country too understand what the issues involved are."
"We have tried our best," he said in response to why the TDP took four long years to reach the conclusion that their demands will not be satisfied by the Narendra Modi-led NDA government.
The TDP MP was on his way to Andhra Pradesh from Delhi when he spoke to Rediff.com.