Mulayam said Akhilesh will not defy his words and announced that sacked minister Gayatri Prajapati will be taken back in the UP cabinet.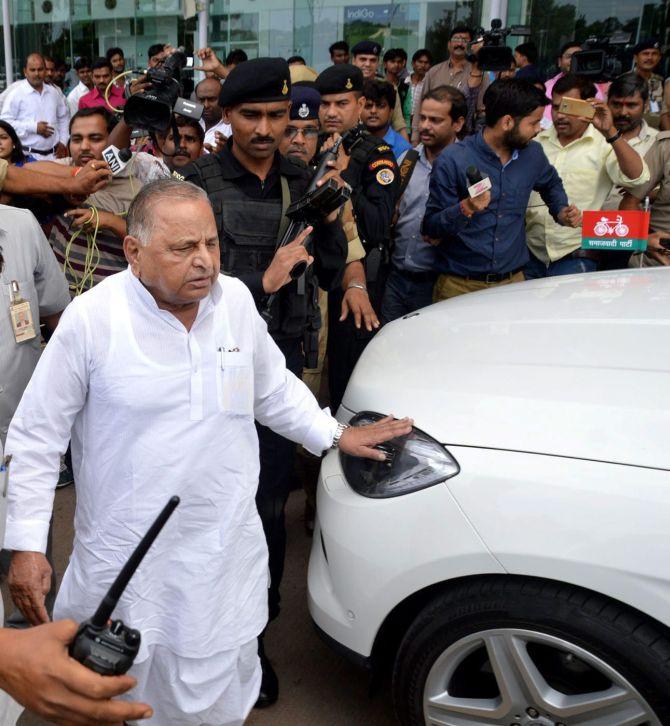 Speaking out over the factional feud in the Samajwadi Party, its supremo Mulayam Singh Yadav on Friday said there can be no division in the party till he is there, a day after the dramatic resignation from cabinet and party posts by his brother Shivpal.
Addressing party men in Lucknow, Mulayam said his son and Uttar Pradesh Chief Minister Akhilesh Yadav will not defy his words and announced that sacked mining minister Gayatri Prajapati will be taken back in the UP cabinet, considered a bone of contention between Shivpal and Akhilesh.
"There can be no division in the party, till I am there," said Mulayam, who has been attempting to broker a truce between his son and brother.
"We have a big family, differences may occur... There is no fight between Shivpal Yadav and Akhilesh," the SP supremo asserted while addressing party men, adding that Akhilesh will meet Shivpal at his residence.
The SP supremo said it was election time and all should come together to work united. "There is no fight among Ramgopal, Akhilesh and Shivpal," he told reporters as slogans in favour of Shivpal drowned his remarks.
As the crisis threatened to cast a shadow over the SP's prospects in the upcoming assembly elections, Mulayam sought to downplay the developments saying, "Every father and son faces issues....There is no rift."
Mulayam, however, said that there is 'fault of our people as well who spoke to media' and added that some people created confusion that there was rift in the party.
"Samajwadi Party is a family. There are no differences in the party," he said.
Mulayam also defended Prajapati who was dropped by Akhilesh as mining minister, saying 'the order of his sacking will be rescinded'.
His remarks came hours after Shivpal told agitated supporters who had gathered outside his residence that he was with Mulayam.
"We all have to strengthen Samajwadi Party. We are with netaji (Mulayam). His message is an order for us. We will not let the party be weakened. In every situation, we are with Netaji," Shivpal said addressing slogan-shouting party-men outside his 7 Kalidas Marg residence in Lucknow.
"You have to go to the party office. We have to calmly convey our views to netaji," he said.
The partymen had gathered in his support since Thursday night after he submitted his resignation to Mulayam as ruling Samajwadi Party's Uttar Pradesh unit head and as a minister in the cabinet of nephew Akhilesh.
However, Mulayam reportedly refused to accept the resignations, they said. Shivpal's resignation as minister has also not been accepted by the chief minister.
The ruling party circles witnessed hectic confabulations right from the morning with a number of legislators and ministers meeting Shivpal. Prajapati was among those who went to Shivpal's residence.
Assembly Speaker Mata Prasad Pandey also met Shivpal in an apparent bid to resolve the situation.
After his meeting with Mulayam, which lasted hardly for about 15 minutes, Shivpal left for his residence after which Akhilesh Yadav returned home to meet Mulayam and they discussed the situation.
Meanwhile in Etawah, hundreds of Shivpal's supporters gathered at Shastri crossing and sat on dharna demanding that all portfolios be restored to him.
One of his supporters also tried to immolate himself demanding sacking of Mulayam's cousin Ramgopal Yadav.
In his constituency Jaswant Nagar, shops were shut down by supporters, who also blocked traffic on the national highway.
The supporters were shouting slogans 'Shivpal tum sangharsh karo, hum tumhare saath hain (In your struggle, we are with you)'.
The feud in the Yadav family had spilled into the open after the chief minister stripped Shivpal of key ministerial portfolios on September 13, hours after he was replaced with Shivpal as the party's state unit chief by Mulayam.
IMAGE: SP chief Mulayam Singh Yadav in Lucknow on Thursday. Photograph: Nand Kuamr/ PTI Photo