Restrictions were imposed in Jammu and Kashmir capital Srinagar's city centre after leaders of three trade unions were detained to stymie a proposed rally 'to protest the government apathy towards rehabilitation of the September 2014 flood victims'.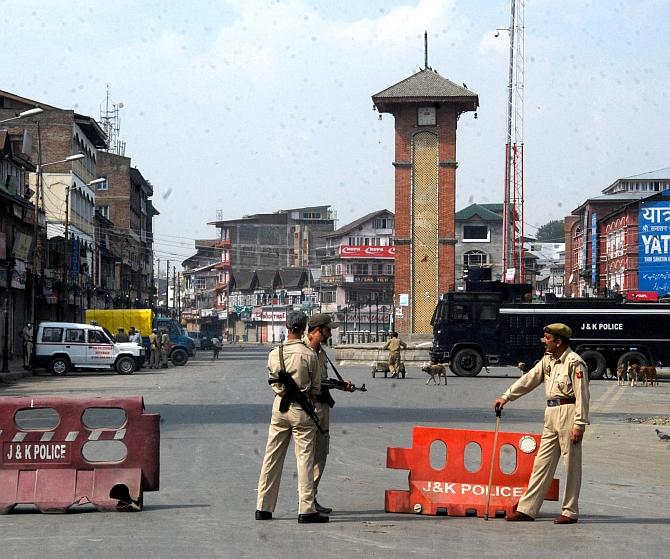 On this day last year, the state was hit by a devastating deluge which inundated swathes of the Valley.
Summer capital Srinagar was the worst hit as flood waters kept it submerged for three weeks. The floods destroyed thousands of homes completely and partially and dislocated over a million people besides hitting hard the business community.
The state government, which estimated the cost of damages at Rs 44,000 crore and submitted it to the Centre, promised the victims full rehabilitation.
One year on, the package is yet to see light of the day causing despair and dismay among the sufferers.
The call for Monday's Valley-wide shutdown was given by the Kashmir Economic Alliance, a conglomerate of various traders bodies. It was supported by the separatist groups as also other unions.
A shocking support to the call came from the opposition National Conference-led by Omar Abdullah which was ruling the state when the floods hit the Valley on September 7 last year. The party organised a blood donation camp in Srinagar on Monday morning.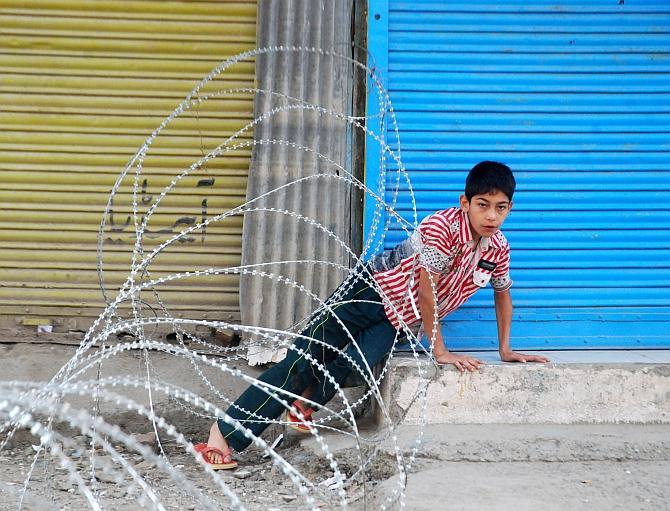 The separatist leaders were placed under house arrest by the authorities to prevent them from participating in the protest rally.
Early Monday morning, police detained leaders of the trade bodies and lodged them in police stations.
The city centre Lal Chowk, where the protest rally was scheduled to be held, has been barricaded and all entry points to the shopping centre have been sealed.
The state government had announced to observe the day as 'Revival Day' to mark the first anniversary of the devastating floods.
The state government last month announced, "The day will mark the spirit of revival, community volunteerism, courage, generosity and solidarity shown during the post flood efforts to rebuild the state and send a message of resilience and normalcy about Kashmir to the rest of the world."
Photographs: Umar Ganie