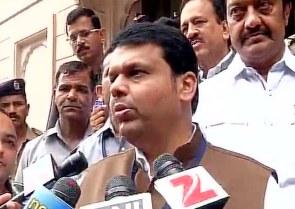 No discrepancies have been found 'prima facie' in Maharashtra Minister Pankaja Munde clearing purchases worth Rs 206 crore under the Integrated Child Development Services scheme without inviting tenders, Chief Minister Devendra Fadnavis said on Thursday, but did not rule out ordering a probe.
Fadnavis said the 'minute details' will be gone into before an inquiry is ordered.
"Panjaka Munde had called me up to say that in this regard if I feel the need for any inquiry to be ordered, I should do it. I am personally monitoring this case. What can be seen prima facie is that there are no discrepancies," he told media persons after meeting Prime Minister Narendra Modi.
Fadnavis said Munde had sanctioned purchases in February this year as funds provided by the Centre under the ICDS would have expired on March 31.
He also said the norm of inviting e-tenders for purchases worth Rs three lakh and more was introduced by his government in April. The Congress has accused Pankaja of flouting this norm by clearing purchases through Government Resolutions.
The Fadnavis government was ion Wednesday hit by first major charge of corruption after Congress accused Pankaja, daughter of Bharatiya Janata Party stalwart late Gopinath Munde, of clearing purchases worth Rs 206 crore on February 13 through 24 government resolutions.
A host of items including snacks, mats, dishes and books for children were purchased under the Integrated Child Development Services by the Women and Child Development Ministry.
Fadnavis, however, made it clear that a probe will be ordered only if irregularities were found to have been committed after a thorough examination.
"We will still go into the minute details and, if any discrepancy is found then, an inquiry will be ordered," he said.
Congress leader Sachin Sawant had filed a complaint with the Anti-Corruption Bureau on the issue and former Chief Minister Prithviraj Chavan had even sought a Central Bureau of Investigation probe.
It was not immediately known if the matter came up for discussion at Fadnavis' meeting with Modi. Fadnavis was believed to have invited the prime minister for the Kumbh Mela at Nashik beginning next month.
Photograph: ANI