Students enrolled to Silicon Valley University, California, are in a state of panic after some of them were barred by Air India to board its flight. The varsity's authorities speaking to Rediff.com's Ritu Jha spoke of their concerns, saying they may take legal action against the national carrier.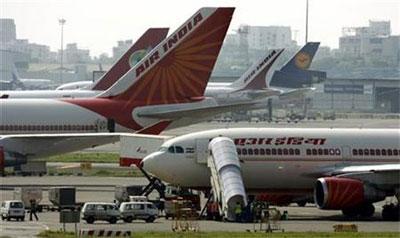 With stars in their eyes and hopes of making it big, 19 students travelled to the US chasing their college dreams. However, they received a big jolt when Air India barred them boarding its flight to the United States of America on the grounds that the two universities in which they had secured admission were under "scrutiny" of American authorities.
Now, the founder of the Silicon Valley University in California, one of the institutions where the students had enrolled, said they will be taking legal action against the national carrier.
Reacting to SVU students being denied boarding the flight in India on Sunday night from Hyderabad's Rajiv Gandhi airport, Jerry Shiao, founder of the Silicon Valley University in San Jose, California told Rediff.com, 'Our legal team is going to talk to Air India. It's causing panic in India and students are afraid, emailing us about their fears and whether they should travel or not."
Shiao said they are worried because the trimester starts on January 11 and a lot of students had begun travelling this week. "We have to talk to the Indian embassy as well," he added.
Shiao said they are expecting over 1,000 students to enrol for the 2016 trimester. Presently, the university has over 3,000 students of which 80 per cent are Indian.

"We never had any problem before," said Shiao, adding, "It was shocking to learn from students that they were denied entry in the US."

Last week, several international students enrolled in the Silicon Valley University in California were denied entry at the San Francisco International airport as well as Chicago by the US immigration officers.

The US Custom and Border Protection spokesperson confirmed the report to Rediff.com, but did not speak of the reason, simply adding, "Some students were refused to entry."

The US Department of Homeland Security Immigration and Customs officer told Rediff.com that they learned about students being deported through media and they haven't found anything wrong with the schools. The schools are still valid.

Seated beside Shiao, Simon Au, associate academic dean, Silicon Valley University said the extra questioning and security screening at the port-of-entry is the result of the Paris and San Bernardino attack. It has nothing to do with school accreditation.

Au, in fact, was of the opinion that the students were denied entry at San Francisco International Airport because they had given conflicting answers to the Immigration Officers during questioning. For example, the students had said they plan to work while going to school, they did not know the name of the school, or the program they were pursuing.

He said the students had informed him that they were afraid to travel to the US because they might be rejected and that the Indian airline was asking students not to travel to the US.
When asked why Air India authorities would stop students, Au said that from what he understood, these students travel on a one-way ticket. So, when they rejected for whatever reason, the airline has to pay for their return. Hence, they must be now stopping students from boarding flights fearing that they would have to pay if the students were rejected.
Meanwhile, it is not just students in India that are worried, but also enrolled students are concerned.
One of the students enrolled in Computer Science program said he had plans to visit India for Christmas and has already bought a ticket. "I am anxious; if I go, they might not allow me entry," he said.
According to confirmed sources, the North Western Polytechnic College in Fremont were in touch with US authorities for the same reason. The school office was closed and no one opened the door when the reporter went there, however, there were several students, who said there was a meeting in the morning and they were told not to be worried.
A student said, "Even though the school said not to be worried, I haven't slept since yesterday. I am going to change schools."
Meanwhile, a phone call and e-mail to Air India went unanswered. When this reporter spoke to the Indian consulate in San Francisco they asked us to speak to Air India.