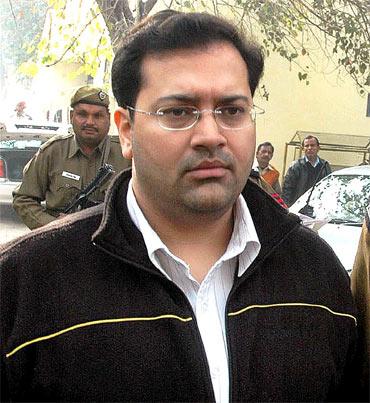 A panel of the Delhi government on Thursday rejected the pleas of early release of convicts of three high-profile murder cases, including Manu Sharma sentenced to life imprisonment for killing model Jessica Lal at a restaurant in South Delhi in 1999.
The Sentence Review Board of the Delhi government also rejected the applications of Santosh Singh, convicted in the Priyadarshini Mattoo murder case, and Sushil Sharma, sentenced in the infamous Tandoor murder case.
The SRB, at its meeting, recommended release of 22 convicts on completion of their sentences and rejected 86 other cases, including the three high-profile murder cases.
"The board has rejected early release applications of all the convicts in these three high-profile murder cases," a government official said.
The SRB examines the records of those who have spent more than 14 years in jail and those who were given life sentence, and recommends or rejects pleas for release of convicts.
The panel, chaired by the Delhi Home minister, comprises principal secretary (Home), principal secretary (law), director general (prisons), joint commissioner of police (crime), chief probation officer and a district judge.
In the past, the board had to postpone its decision on release of Jessica Lal murder convict Manu Sharma and other convicts lodged in the Tihar jail.
Manu Sharma was sentenced to life imprisonment by the high court in December 2006.
The trial court had acquitted him, but the Delhi High Court reversed the verdict and the Supreme Court upheld the life sentence in April 2010.
Jessica Lal, who was tending a bar at the Tamarind Court restaurant owned by socialite Bina Ramani at the Qutub Colonnade in South Delhi's Mehrauli area on April 30, 1999, was gunned down by Sharma after she refused to serve him alcohol.
Another convict Santosh Kumar Singh, a third-year law student in Delhi University, had raped and murdered 25-year-old law student Priyadarshini Mattoo in January 1996.
He was acquitted by the trial court on December 3, 1999, but the Delhi High Court had on October 27, 2006 reversed the decision, holding him guilty of rape and murder.
In the infamous Tandoor case, Sushil Sharma had shot his wife Naina Sahni in 1995 objecting to her alleged relationship with a male friend.
He had then chopped her body into pieces and attempted to burn it in a restaurant's oven.
IMAGE: Manu Sharma.