The Congress is likely to make the Telangana issue a part of its manifesto in the forthcoming elections, reports Vicky Nanjappa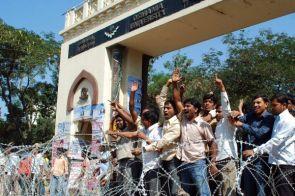 No decision on Telangana was taken by the Congress Core Committee which met in New Delhi on Friday. The committee said the matter has been referred to the Congress Working Committee to take a final decision. Interestingly, no time frame has been fixed for the CWC to meet and discuss the issue.
Prime Minister Manmohan Singh, Sonia Gandhi, Rahul Gandhi, Sushil Kumar Shinde, Andhra Pradesh Chief Minister Kiran Kumar Reddy, Deputy CM Damodar Raja Narasimha, APCC Chief B Sathyanarayana and Digvijay Singh were part of the core committee.
The meeting that lasted two hours heard the presentations of leaders from Andhra Pradesh on the Telangana issue. B Sathyanarayana took a neutral stand in his 16 minute presentation. Damodar Narasimha Raja gave a 20 minute presentation in favour of Telangana, while Kiran Kumar Reddy in his hour-long presentation spoke against the formation of the state.
Sources told rediff.com that no decision is likely to be taken on the issue. The status quo would be maintained. At the most the Congress is likely to make it a part of its manifesto in the forthcoming elections with an expectation to tie up with the Telangana Rashtra Samithi and the YSR Congress.
Meanwhile, there is disappointment in the Telangana region. K T Rama Rao, son of TRS supremo, K Chandrasekara Rao said that this was expected. "I had said yesterday itself that the Congress is known to do this on the Telangana issue. Our fight will continue," he said.
The Telangana Joint Action Committee would hold a meeting and decide on the next course of action. Agitations would continue, JAC members say.