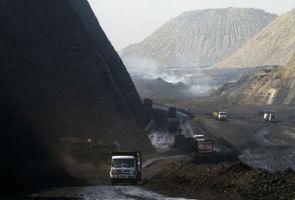 Rajya Sabha failed to transact any business for the seventh consecutive day as Bharatiya Janata Party on Tuesday stepped up attack on Prime Minister Manmohan Singh and demanded Law Minister Ashwani Kumar's sacking in the wake of Supreme Court observations on the coal issue.
Uproarious scenes were witnessed soon after the House met for the day with BJP members trooping into the Well, raising slogans to seek the prime minister and law minister's resignation over the coal issue.
The bedlam took its toll on the Question Hour and Zero Hour, which could not be conducted ever since the second phase of the Budget session began on April 22. The House was adjourned twice before lunch and then for the day amid uproar a little after 2 pm.
BJP members kept shouting "Kanoon mantri ko barkhast karo" (sack the Law Minister) in the Well after Supreme Court made certain adverse comments about sharing of the CBI status report on its investigations in coal block allocation scam.
BJP members earlier raised slogans like "Pradhan mantra isteefa do (prime minister resign)" and "koyele ki dalali hai, poori Congress kali hai (Congress is tainted in coal scam)" in the Well of the House.
Earlier, when the House met for the day BJP members created ruckus over the coal issue while SP members voiced strong concern over Chinese incursion leading to two adjournments before lunch.
SP members also moved into the Well shouting slogans against the incursion in Ladakh. As Chairman Hamid Ansari's pleas to maintain order went unheeded and slogan shouting continued, he adjourned the House till noon.
Similar scenes were witnessed when the House reassembled as SP members rushed again into the Well. Amid din, the Chair allowed members to lay their Special Mentions.
Deputy Chairman P J Kurien appealed to members to allow Zero Hour but they did not relent, forcing him to call it a day.