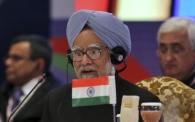 Left parties on Tuesday stopped short of seeking the resignation of Prime Minister Manmohan Singh, after the Supreme Court's observations on the coal allocation scam, but asked him to face Parliament as he "owes an answer" to the country.
They demanded the ouster of Law Minister Ashwani Kumar.
Communist Party of India National Secretary D Raja said the Supreme Court has passed "really strong strictures" against the government on the working of the Central Bureau of Investigation while Forward Bloc Secretary G Deverajan said no other prime minister has faced such criticism from the apex court.
Both the leaders said the Left parties were not seeking Dr Singh's resignation as they wanted to listen to the prime minister who should "own moral responsibility" for the developments.
"The observations of the Supreme Court are strong. Now the Supreme Court observations show that what we were saying were right. Dr Singh should own moral responsibility. It is not the law minister alone who is responsible," he said.
"The prime minister should own up responsibility and face Parliament. Now the continuation of the law minister has become untenable," Raja said.
He said Parliament should ensure that the CBI works independently and it should discuss the possibility of a mechanism to which the CBI reports other than the government.
Deverajan said the prime minister owes an explanation as he was in-charge of the coal ministry at the time of the scam.
"The law minister should be dismissed. Let the prime minister face Parliament," he said.