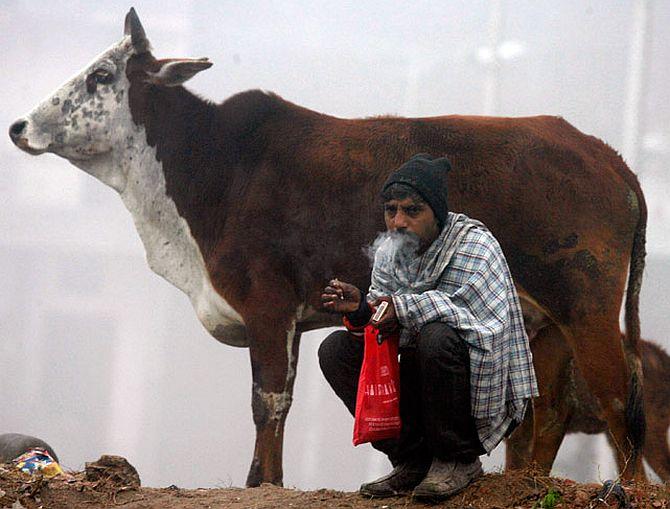 The National Security Act is likely to be invoked against the killers of the 50-year-old Mohammad Akhlaq in Dadri, who was brutally beaten to death on Monday night after locals suspected him of storing and consuming beef.
Indicating the invocation of the stern law, Uttar Pradesh Principal Home Secretary Debashish Panda said, "This was no ordinary killing and therefore merits the use of the strictest laws so that others are deterred from indulging in such acts in future."
Meanwhile, the local administration in Noida, under whose jurisdiction Dadri falls, have also confirmed that the meat stored in Akhlaq's home was simply mutton and not beef as had been claimed by his murderers.
"We have got the meat samples picked up from Akhlaq's fridge tested by our animal husbandry department experts who said quite affirmatively that it was not beef at all," Noida district magistrate N P Singh told Rediff.com over the phone.
He said, "While seven of the ten accused have already been arrested, a manhunt has been launched to apprehend the remaining three and we are optimistic that they'll be tracked down tonight."
"Though the killers have no formal association with any fundamentalist organisation, it was apparent that each of the arrested individuals held very rabid views of Hindutva," said Singh, whose prompt response and arrival on the scene of the crime within two hours of the incident averted the situation from turning into yet another Muzaffarnagar, which had witnessed prolonged communal violence that claimed as many as 62 lives, left many wounded and over 55,000 displaced exactly two years ago.
While adding that all assailants were in the 20-25 age group, he said, "The police had also nabbed the two young men who specifically went to the neighbourhood temple to provoke others and mobilise them for the attack on Akhlaq," he said.
What surprised the DM most was the fact that people in the neighbourhood were generally all praise for Akhlaq, who was well-known as the village blacksmith.
In Lucknow, Chief Minister Akhilesh Yadav announced an ex gratia relief of Rs 10 lakh to the victim's family.
Image for representation only.