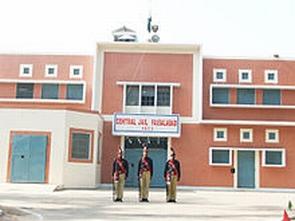 Reports about the suspension of several Pakistani jail officials after the brutal assault on Indian death row prisoner Sarabjit Singh last week have turned out to be an eyewash as authorities are yet to take action against anyone in Kot Lakhpat Jail.
Immediately after the assault on Sarabjit by other prisoners on Friday, officials had told the media that three or four prison officials, including the assistant superintendent, had been suspended.
However, official sources told PTI that not a single official of the prison has been suspended from service so far.
The caretaker government of Punjab province has only issued notices to seven Kot Lakhpat Jail officials, including Superintendent Mohsin Rafiq and Additional Superintendents Ishtiaq Ahmed Gill and Sawar Sumera, to explain why action should not be taken against them for failing to protect Sarabjit.
To the surprise of many, an inquiry into the incident by Deputy Inspector General of Police, Prisons, Malik Mubashir pinpointed several security lapses but did not fix responsibility on any one.
Punjab's caretaker Chief Minister Najam Sethi and his administration have been tight-lipped about the incident and no formal statement on the assault has been issued by anyone in the provincial government.
Sethi has neither condemned the incident nor taken action against Inspector General of Prisons Farooq Nazir for failing to provide protection to Sarabjit though his lawyer Awais Sheikh had warned prison officials of threats to his life in the wake of the hanging in Delhi of Afzal Guru for his role in the 2001 terror attack on the Indian parliament.
After the hanging of Guru, jail officials had told the media that they had put in place "adequate measures" for the security of Sarabjit. They even claimed they had shifted him to a special cell to avert any untoward incident.
The Punjab government's reluctance to launch a thorough investigation into the incident has raised many eyebrows, sources said.
The government has not arranged any news briefing to brief media about the assault, the outcome of the official probe and the condition of Sarabjit.
Instead, the provincial government barred officials in the prison and state-run Jinnah Hospital, where Sarabjit has been comatose since Friday, from speaking to the media on the issue.
Sarabjit, 49, sustained several injuries, including a skull fracture, when six prisoners attacked him in Kot Lakhpat Jail on Friday afternoon.
He was hit on the head with bricks and his neck and torso cut with sharp weapons.
Two death row prisoners were charged for the attack.
They reportedly told investigators that they planned to attack Sarabjit because of his alleged involvement in bombings in Lahore.
Sarabjit was convicted of alleged involvement in a string of bomb attacks in Punjab province that killed 14 people in 1990.
His mercy petitions were rejected by the courts and former President Pervez Musharraf.
The outgoing Pakistan People's Party-led government put off Sarabjit's execution for an indefinite period in 2008.
Sarabjit's family says he is the victim of mistaken identity and had inadvertently strayed across the border in an inebriated state.