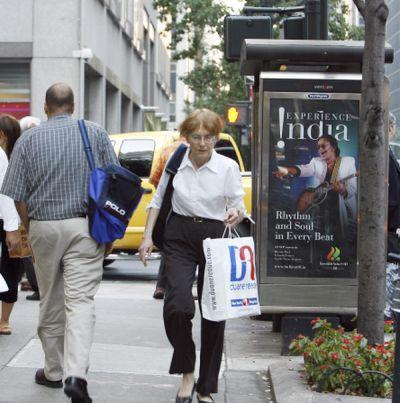 Riveting and colourful New York will get a dash of spice this week when India treats the city of yellow cabs, teeming sidewalks and smoking manholes to Kathakali, Bhangra and Bharatanatyam combined with a tongue tingling selection of Indian food.
New Yorkers would get to sample for free, Indian handicrafts and handlooms, its folk and classical dances, bollywood and of course cuisine from the sub-continent as part of an extended celebration of the country's 60 years of independence from British rule on August 15, 1947.
The classical and folk arts would be complemented by the music and dance forms of the contemporary India, with performances by the likes of Remo Fernandes, Shivamani and Louis Banks.
Indian fashion designers too would showcase their designs at special shows that will follow business meetings between Indian industry captains and their US counterparts.
The week-long event, called Incredible India@60 starting on Sunday, is being organised by the Confederation of Indian Industry along with the Ministry of Tourism and Ministry of Culture.
"The idea is to have four days of high impact...in terms of banners, posters and visual impact... There are public events in Bryant Park and South Seaport to give ordinary New Yorkers a sense of India," the event's steering committee Chairman and Infosys Technologies Co-Chairman Nandan Nilekani said in New York.
He said the programme was a culmination of a 3-year exercise by the CII to promote India as a brand, including in Davos during the World Economic Forum last year.
These events are likely to positively impact Indian businesses and its tourism industry, whose performance has been far less than its potential. Tourist arrival into the country, which is hoe to over one billion people, was up 14 per cent but still a very low 4.43 million last year. Whereas, countries like Malaysia, whose population is a little over 25 million, hosted 17.5 million tourists in 2006.
A study by Australia's Roy Morgan International in 2005 had revealed that the issue for India is to build awareness and interest in the unique value of India -- to improve its image as a place to visit, and ultimately, as a place to do business.
That explains why the Incredible India campaign was splashed all over New York. On bus panel, Nasdaq and Reuters buildings at Times Squares, pole banners and kiosks, it is India everywhere. The CII and the government have together spent $10 million (Rs 40 crore) for this campaign that will run till September 27.
"From the CII's point of view, this is a major initiative. What we'll be doing in four days, is leaving an impression of India -- a confident nation," CII President and Bharti Group Chairman Sunil Mittal said.
Reportage: PTI | Photograph: Jay Mandal