13,660 km. 40 million Biharis participate in this year's 'world's longest human chain'.
M I Khan reports from Patna.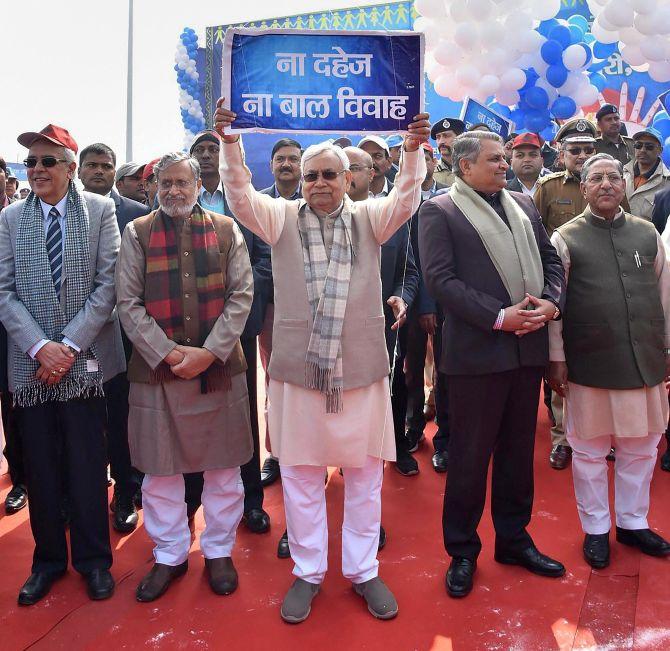 IMAGE: Bihar Chief Minister Nitish Kumar, flanked by Deputy CM Sushil Kumar Modi and assembly Speaker Vijay Chaudhary, leads a human chain against child marriage and dowry in Patna on Sunday, January 21, 2018. Photograph: PTI Photo
After his crusade against liquor -- imposing a strict state of prohibition in Bihar -- Chief Minister Nitish Kumar embarked on his next crusade on Sunday to evict dowry and child marriage from his state.
As he had done with alcohol, Nitish Kumar enlisted Biharis to form a human chain -- this one too was billed as the world's longest -- to demonstrate their commitment against accepting dowry and banishing child marriage.
The human chain which began in Patna's Gandhi Maidan extended to national highways, state highways, different districts, blocks, villages in the state.
A firman encouraged participation in the human chain that stretched for an estimated 13,660 kilometres and crisscrossed all 38 districts in Bihar.
Biharis -- children, women, men -- held hands for 30 minutes, from 12 noon to 12:30 pm.
More than 40 million people participated in the event, senior officials said, even as figures of attendance were being collected from the districts.
Sunday's numbers exceeded the numbers from the human chain held this very day last year against booze: 11,292 km. 20 million (Nitish Kumar had claimed 30 million) Biharis. That event went on for 45 minutes.
There was a major political difference from last year's human chain. This year, the Rashtriya Janata Dal and the Congress -- part of Nitish Kumar's government last year -- stayed away from the event.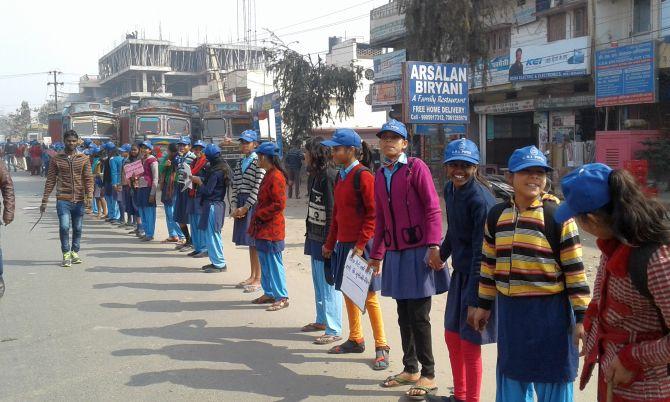 IMAGE: School students, mainly girls, shouted slogans like 'Oppose child marriage and say no to dowry.' Photograph: M I Khan
Sunday's event -- like the human chain last year -- was recorded for posterity by 40 drone cameras. The footage will be edited and compiled into a film to be screened in cinema halls in Bihar.
When he launched his campaign against child marriage and dowry last October, Nitish Kumar said it was part of his 'nishchay' (resolve) to eradicate both social evils.
On Sunday, the chief minister told the media that he believed the number of child marriages and dowry cases in Bihar would decline in the next year -- with the active support of Biharis and government officials including, of course, the police.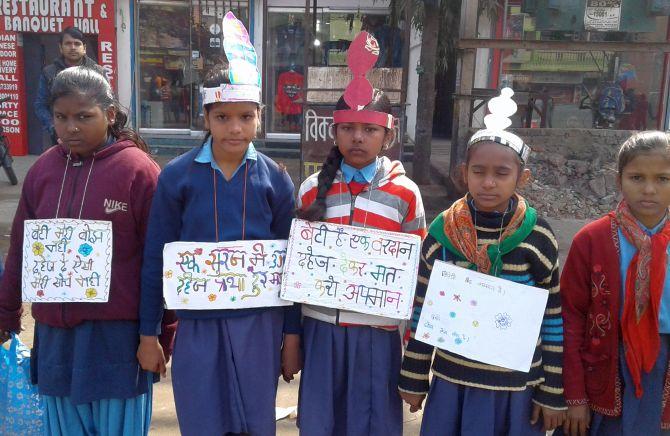 IMAGE: Scenes from the human chain. Photograph: M I Khan
Nitish Kumar asked Biharis to boycott child marriages and weddings where dowry was given.
"It is the best way to isolate people who violate the child marriage and dowry acts," the chief minister said.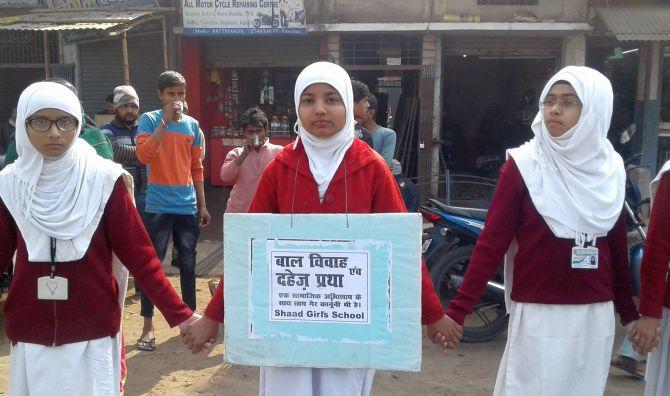 IMAGE: Nitish Kumar believes child marriage and dowry cases will decline in the next year with the active support of the people and, of course, the police. Photograph: M I Khan
A national family health survey reported that 39.1 percent child marriages in the country take place in Bihar.
A few years ago, Bihar accounted for 69 percent of child marriages with girls being married off before reaching 18, the legally permissable age to marry.
In 19 of Bihar's 38 districts, the percentage of child marriages is above 50 per cent.