RJD chief Lalu Prasad Yadav demanded the Bihar CM to sack his deputy and lodge a case against him and arrest him. M I Khan reports from Patna.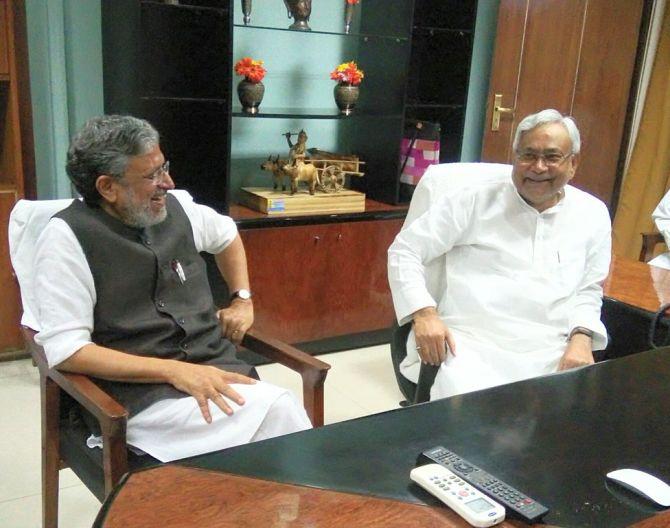 Bihar chief minister Nitish Kumar on Thursday recommended a Central Bureau off Investigation probe into the Rs 1,000-crore Srijan scam in Bhagalpur district, allegedly involving Bihar Deputy Chief Minister Sushil Kumar Modi and other senior Bharatiya Janata Party leaders and top officers.
According to the Chief Minister's Office in Patna, Kumar has directed the state chief secretary and director general of Police to hand over the case to the CBI.
Opposition Rashtriya Janata Dal, including leader of opposition Tejashwi Yadav, has repeatedly demanded a CBI probe into the alleged scam.
"It is high time chief minister recommended a CBI probe into the Srijan scam as he has been repeatedly claiming of zero tolerance against corruption," Tejashwi, who is in Bhagalpur in connection with his ongoing Janadesh Apman Yatra, said.
Tejashwi said he was not allowed to hold a meeting in Bhagalpur since Wednesday as the state government has directed the district administration to impose Section 144 of the Code of Criminal Procedure.
"The government is afraid of me exposing involvement of their leaders in the scam. Deputy Chief Minister Sushill Kumar Modi was state finance minister when crores of rupees were looted. No one but Modi is responsible for it," he said.
In Patna, senior RJD leader and former minister Jagdanand Singh earlier on Thursday demanded a CBI probe into the scam.
"The state government should recommend a CBI probe within a week and the RJD will not allow Nitish Kumar to save some senior BJP leaders, including Sushil Modi, who are involved in it," Singh said.
Singh said the RJD will launch an agitation on the streets if Nitish Kumar failed to order a CBI probe into it.
RJD chief Lalu Prasad Yadav, who is in Ranchi to appear before a CBI court in connection with the fodder scam, demanded the Bihar CM to sack his deputy and lodge a case against him and arrest him for his 'direct involvement in Rs 1,000-crore' scam.
He had also demanded a CBI probe into the scam allegedly involving the deputy CM and an NGO, where funds were illegally transferred to private accounts between 2005 and 2013.
Lalu said, "Nitish Kumar should sack Modi from his ministry immediately if he has zero tolerance against the corruption and lodge an FIR against him and arrest him. There are solid evidences of Modi's involvement in the scam when he was the finance minister."
Lalu said Modi is not the only senior BJP leader behind this scam, which is bigger than the fodder scam that surfaced in mid 90s.
"Modi and other BJP leaders, including BJP MP Ashwani Kumar Choubey, Manoj Tiwari and former Union minister Shahnawaz Hussain are involved in the scam," Lalu said.
Modi holds the finance portfolio in the current dispensation also.
Lalu said he doesn't have faith in the ongoing probe into the scam by a state agency.
"Prime Minister (Narendra) Modi should take cognisance of the scam and order a CBI probe into it because the state government agency is not reliable to investigate as Sushil Kumar Modi is involved in it," Lalu said.
After days of investigations, a Special Investigation Team of Bihar Police's Economic Offence Unit said at least Rs 700 crore was diverted from bank accounts of different departments including Mukhyamantri Shahari Vikas Yojna in Bhagalpur district.
"Now it has crossed Rs 700 crore and it may increase in coming days with the probe still on," an official of the SIT said.
So far, eight people have been arrested -- including Prem Kumar, PA of Bhagalpur district magistrate, on Friday -- in connection with the scam in the last three days.
SIT officials said an FIR was lodged on Tuesday evening at Tilkamanjhi police station in connection with fraudulent withdrawal of Rs 10.26 crore funds of the Mukhyamantri Shahari Vikas Yojana, against board members of Srijan Sahayog Mahila Vikas Samiti, a Sabour-based NGO and officials of the Indian Bank.
Two more FIRs were lodged on Wednesday in connection with fraudulent withdrawal of funds of the land acquisition department.
A public interest litigation was filed in the Patna high court on Wednesday seeking a CBI probe into the scam.
The petition was filed by Manibhusan Pratap, an advocate of Patna high court.
The petitioner has informed the court that Srijan scam is of over Rs 1,000 crore involving top political leaders and officers.
"I have demanded the court to intervene and order a CBI probe into this scam," Pratap said.
He said a CBI probe is necessary for transparency in the probe into the scam.
It is first such case when serious corruption allegations have been levelled against the Nitishh Kumar-led government in Bihar.