Bihar Chief Minister and Janata Dal-United chief Nitish Kumar on Thursday met Congress president Sonia Gandhi in New Delhi and is learnt to have advocated unity among opposition parties to take on the Bharatiya Janata Party-led National Democratic Alliance.
The JD-U also used the meeting to call for a joint Opposition candidate for the election to the President's post and urged Gandhi to take the lead in the matter.
Its spokesperson K C Tyagi, however, insisted that the issue of presidential election was not discussed in the meeting and added it was his party's view that a strong joint Opposition candidate will be in national interest.
"There should a joint Opposition candidate for the top constitutional post and Sonia Gandhi being the leader of the largest opposition party should take the lead," he said.
Kumar has already taken up the matter with leaders of the Left parties and received a good response, he said.
Another senior JD-U leader said Kumar's visit to Gandhi's residence was a courtesy call as the Congress is the party's ally in Bihar and also because Gandhi had been ill for some time.
"He did speak about the need for unity among Opposition parties," he added.
Kumar has been calling for forging an alliance of secular parties at the national level on the lines of the 2015 electoral grand alliance or 'Mahagathbandhan' in Bihar to take on the BJP-led NDA under Prime Minister Narendra Modi.
The Congress is a partner in the Bihar government with Kumar's JD-U and Lalu Prasad's RJD, after the three parties contested and won the assembly elections as part of the grand alliance.
*****
Regional parties strong enough to tackle BJP: Mamata
The regional parties are strong enough to counter the BJP, said West Bengal Chief Minister Mamata Banerjee on Thursday after meeting her Odisha counterpart Naveen Patnaik, who made no comment on the perceived saffron surge in his state.
"The regional parties are enough to tackle the BJP," Trinamool Congress chief Banerjee told reporters after a 10-minute meeting with Patnaik at his residence in Bhubaneswar.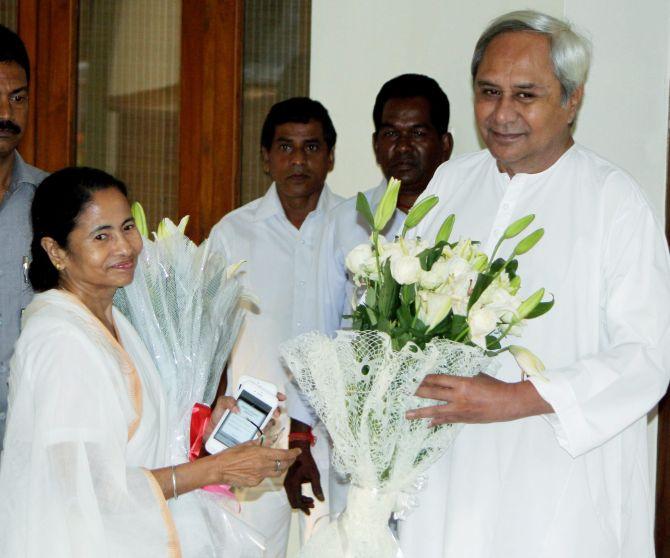 IMAGE: Odisha chief Minister Naveen Patnaik greets his West Bengal counterpart Mamata Banerjee at his residence in Bhubaneswar on Thursday. Photograph: PTI Photo

Asked about the threat to regional parties, particularly from the BJP in wake of the Uttar Pradesh assembly poll results, Banerjee shot back, "I do not believe that they (BJP) are a threat."
Coming down heavily on the BJP, she said the party (BJP) divides people and split political parties, a tactics that the regional parties do not resort to.
"They divide parties. Sometimes they purchase ministers, MLAs and whatever they can.
"They create division among Hindus, Muslims, Christians, Sikhs, tribals and scheduled caste people. They even create division within the Hindu community. We regional parties do not do that. We say Jai Jagannath as there is no caste, creed and religion in the Jagannth culture," said Banerjee.
To a question on the proposed federal front, the TMC chief said, "That is my consistent effort. We love regional parties and we want regional parties to persist and grow."
"In the federal structure, regional parties strengthen the very system under the Constitution," she said adding all states are important in a federal setup.
"We are already in the federal structure. Look, he (Patnaik) is Odisha chief minister and I belong to West Bengal. Therefore, I say all regional parties are there. Secular parties are always secular and are together," she said.
Asked whether she finds a natural ally in Patnaik's Biju Janata Dal, Banerjee said, "We have great respect for it."
On the upcoming Presidential election, she said, "It is still early for that. If he (Patnaik) proposes any name, I will talk to him. Don't worry. We have the best of relationship."
The two chief ministers, who spoke to the press together, maintained that their meeting was not political in nature and it was out of courtesy.
"I'm very glad that honourable chief minister of West Bengal came to pay a courtesy call today," said Patnaik and denied having any political discussion with her.
The TMC supremo said, "I'm deeply honoured that Naveenji gave me time. I knew his father Biju Patnaik very well and he was very fond of me. He had helped me by sending an aircraft for a meeting when I was a Union minister of state for women and child development."
As neighbouring states, it is good to keep in touch, she said, adding, "Politics is a continuous process."
"I wish Naveenji good health and that his party do better," she added.
Patnaik said he has invited Banerjee to lay foundation stone of West Bengal Bhavan at Puri.