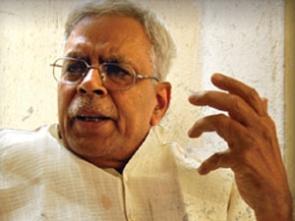 Senior Janata Dal-United leader Shivanand Tiwari on Tuesday created flutters by praising Narendra Modi at the Janata Dal-United convention in Rajgir, triggering spontaneous protests from the party workers.
"He was born in a backward caste family. He rose from humble origins, one who had sold tea at railway station," the party spokesman said in the presence of Chief Minister Nitish Kumar and party president Sharad Yadav on the dais.
This was not taken to kindly by the workers who shouted slogans as his remarks came just days after Kumar had been targeted by Modi in a rally in Patna.
Tiwari, a Rajya Sabha member who had come out vehemently against Modi in the run up to the JD-U-Bharatiya Janata Party split, was initially confused about what the protest was about. He then explained that one has to look at one's own weaknesses and strengths of the rival, describing Modi as a formidable challenger.
After concluding his speech, when the media accosted him asking him whether he was speaking against party line, Tiwari dismissed such suggestions.
The JD-U leader said Modi's ideology is dangerous. Any patriotic person will have to oppose Modi, he said.