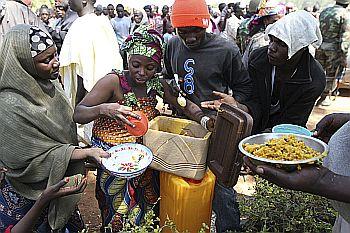 The Nigerian city of Jos almost turned to a ghost town as residents fled to seek refuge in churches, mosques and military barracks on Wednesday, even as Muslim-Christian clashes spread to new regions leaving more than 300 dead in three days of communal-violence.
However, the government has reviewed the 24-hour curfew to 5pm to 10am in Jos. The partial lifting of the curfew was also meant to address the issue of humanitarian supply which has been hampered by restriction of movement.
Humanitarian agencies have estimated the number of displaced as 20,000.
There is also serious food scarcity as shops are locked and commercial activities crippled. The fighting which started on Sunday between Christians and Muslims has spread to neighbouring towns forcing the country's military to take over from the police on maintenance of law and order in the town that serves as a capital to Plateau state.
A Red Cross chief, Awwalu Mohammed has raised alarm on the humanitarian consequences of the movement restriction. A statement by the Commissioner for Information and Communication, Gregory Yenlong, also announced the suspension of the use of motorcycles for transportation within the metropolis.
A woman who opted to remain anonymous told PTI that despite being evacuated by security agencies after making a special plea on phone, it was not an easy journey.
"I was able to escape to Abuja this morning but the State Security Service officers who aided me did it under dangerous circumstances as shoot out between them and some religious zealots was avoided by whiskers," she said.
She said her decision to call in the security operatives came when the attackers started going from house to house attacking and killing with machete, guns and other lethal weapons.
The violence was said to have been caused by some youth who rejected building of a mosque in an area predominantly inhabited by Christians.
The United States has called on Nigeria to ensure that the perpetrators of these acts of violence are brought to justice. The US extended its sympathies to those who lost their loved ones and friends in the latest clash in the city which has enjoyed delicate peace since violent religious clashes claimed hundreds in 2001.
The US condemned the renewed fight in a statement saying, "We condemn mob violence in the strongest possible terms, and take this opportunity to urge all parties to support efforts to promote inter-communal and interfaith harmony and peaceful co-existence in Jos and the rest of Nigeria."
The Chief of Army Staff, Lt General Abdulrahaman Danbazzau, said the military medical teams are stationed at the various camps to make available medical assistance and to build toilets for the displaced persons.
The Secretary General Supreme Council of Islamic Affairs of Nigeria, Alhaji Latif Adegbite told PTI, "The crisis we are witnessing in Jos now should not be given religious inclination because the root of the problem is ethnicity and something has to be done about it fast or else Jos will continue to have problems because it is a divided town."
Ethnic and religious tension in Jos have led to loss of many lives in recent times often orchestrated by power struggle. Nigeria's 150 million people are evenly distributed between Christians and Muslims with the latter predominant in northern Nigeria and the former in the South.
United States based Human Rights Watch has given the number of people who have died in religious and ethnic clashes in Nigeria as 13,500 since the military handed over to civilians in 1999.
Image: A woman shares food with people at an internally displaced persons camp in Nigeria's central city of Jos on Wednesday
Photograph: Akintunde Akinleye / Reuters