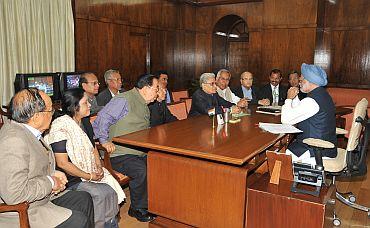 Parliamentarian from the northeast on Thursday met Prime Minister Manmohan Singh in wake of the outrage over death of a student from Arunachal Pradesh in New Delhi, an incident which the latter described as condemnable.
"It's deplorable and condemnable," the PMO tweeted as the MPs brought to his notice the killing of Nido Tania and heckling of two Manipuri girls in Delhi recently.
"... the Home Ministry has set up a committee to go into these causes in a systematic manner and prevent them," the PMO tweet said.
The prime minister asked them to work closely with Home Ministry's committee on NE affairs, another PMO tweet said as the incident triggered a national outrage and wide-spread condemnation.
Speaking after the meeting, MP from Tripura Khagen Das said Dr Singh condemned the incidents in which people from northeast were targeted and advised them to meet the committee formed to look into the issue.
"We brought to his notice the several incidents like the killing of 19-year-old student Nido Tania and heckling of two Manipuri girls in Delhi," he said.
Das said the Singh, who is himself a member of the Northeast Forum of Parliament, has given an assurance that appropriate steps would be taken so that such incidents do not recur.
The MPs said that in the past few years several incidents in Delhi and other areas have occurred in which students of the northeast have been targeted.
They said in October 2009, a girl from Nagaland was raped and killed in Delhi while in November 2010, a Manipuri woman was raped. In April 2010, the niece of Meghalaya Chief Minister Mukul Sangma was found dead in Gurgaon while in February 2013, 10 Manipuri students were harassed on the DelhiUniversity campus.
In May 2013, a Manipuri woman had an unnatural death in Delhi while in August 2013, three northeastern students were heckled, they alleged.