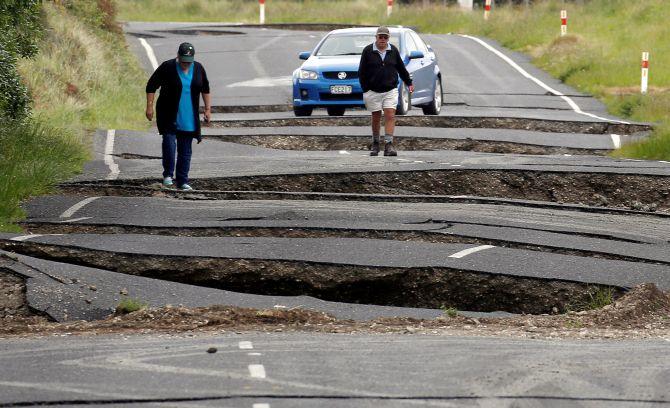 A series of powerful earthquakes in New Zealand's South Island on Monday left at least two dead and triggered a Tsunami warning.
The first event, a 7.8-magnitude quake, struck just after midnight Monday near the coastal community of Kaikoura, some 93 kilometres northeast of the city of Christchurch, the United States Geological Survey reported.
Kaikoura, a town of about 2000 people, has been almost completely isolated with roads closed and phone lines down. There is a state of emergency in place for the town. The first rescue teams to reach the town report no serious injuries.
Philip Duncan of Weather Watch New Zealand said that the shock triggered waves of 2.49 metres (8 feet) above usual tide levels, the highest New Zealand had seen in at least 38 years, reports the CNN.
An initial Tsunami warning was lifted but temblors continued Monday afternoon. A 6.2-magnitude quake struck around 1:30 p.m. 39 kilometers west-southwest of Kaikoura, further north of Christchurch.
Aftershocks from South Island reverberated all the way to Wellington, the country's capital on the North Island, where residents were told to stay indoors Monday.
Prime Minister John Key is touring the affected region by helicopter.
Meanwhile, a 110-year-old woman was pulled alive from the rubble of a collapsed homestead.
Residents have been advised to boil drinking water in the town of Raglan, after water supplies were affected by the quake.
IMAGE: Local residents look at damage caused by an earthquake, along State Highway One near the town of Ward, south of Blenheim on New Zealand's South Island. Photograph: Anthony Phelps/Reuters