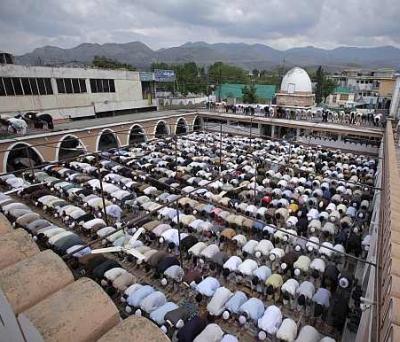 The appointment of General Raheel Sharif as the new army chief of Pakistan has come as a surprise to many.
Rajiv Dogra, former ambassador and India's last Consul General to Karachi, speaks to Aabhas Sharma about the appointment, what it says about the priorities of Pakistan Prime Minister Nawaz Sharif and most importantly, what it means for India. Edited excerpts:
Very little was known about the new Pakistan army chief until now. What do you make of this appointment?
Raheel Sharif has, so far, kept a very low profile and was supposed to be third down on the priority list of the candidates. So his appointment does come as a surprise.
Having said that, he is a man who is known to be stable and who has served as staff officer to a former President and to two army generals. You have to be an officer of substance, and with the right amount of credence, to hold such positions. So, though there is an element of surprise in the appointment, Raheel Sharif seems to be a man of some solidity.
How different is he from the outgoing Army chief, Parvez Kayani?
Kayani was viscerally anti-India. He was mistrusting of many, including Nawaz Sharif.
Unlike Kayani, Raheel Sharif doesn't come from a commando or Inter-Services Intelligence background. He doesn't have the all charging commando stamp or the ISI taint, but is a regular soldier.
However, no soldier in Pakistan Army would get promoted to this rank for working to win a Nobel Peace Prize.
Raheel Sharif has been responsible for coming up with the Pakistani counter to the Cold Start doctrine of the Indian Army. He has also put together the new counter insurgency strategy for the Pakistani army. But there is also the fact that when he was the commandant of Pakistan National Academy in Abbottabad, Osama bin Laden was living less than a kilometre away from him.

Nawaz Sharif was also known as a 'moderate' leader. How do you view this appointment vis-a-vis the Pakistan prime minister's future course of actions for his country?
I feel Nawaz Sharif had prudently kept the appointment a secret till the very last day. If he had made the announcement public earlier, then he would have had to deal with counter moves from, perhaps, Kayani or the other officers who were in the running for the post.
It's also a show of strength from Nawaz Sharif by getting "his man", so to speak. Not only does it show the manner in which Nawaz Sharif is wielding his power but also gives an impression that the army may not be the supreme authority in Pakistan, as had been the case for many years now. The civil-military relationship might undergo some fine tuning.
What are the immediate challenges that Raheel Sharif faces as he takes on the post of Pakistan army chief?
Few people know that General Pervez Musharraf was Raheel Sharif's mentor. The new army chief's brother, Shabbir Sharif, was killed in the 1971 Indo-Pak war and was a course-mate of Musharraf. Raheel Sharif has been close to Musharraf ever since and now that he has been appointed by Nawaz Sharif, it will be a challenge for him to balance out this complex equation.
The other big challenges, of course, are the issue of drone attacks, how he handles the Afghanistan situation from 2014 and the problem of Taliban insurgency in Pakistan.
India will always be on the thought radar of any army chief of Pakistan, but it might not be among the immediate top priorities for Raheel Sharif.
What does this appointment mean for India?
Unless something dramatic happens, I don't think much will change on the Indian front with this appointment.
Should we expect to see Pakistan softening on India? I am not too sure about it, but as I mentioned earlier, the immediate challenge for Raheel Sharif will be to deal with terrorism in Pakistan. Whatever happens there will have an impact on India.
Image: Residents offer prayers in an open yard of the Jamia Masjid Mandian in Abbottabad ' Photograph: Reuters