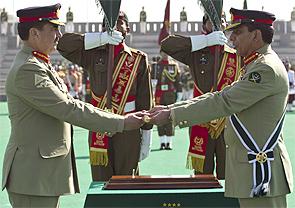 General Raheel Sharif on Friday assumed charge as Pakistan's new army chief at a ceremony in Rawalpindi, where outgoing army chief General Ashfaq Parvez Kayani passed on the command stick to him.
The ceremony at the general headquarters was attended by senior government officials' army officers and diplomats.
On the occasion' a contingent of armed forces presented the farewell guard of honour to Kayani, who retired after serving as the chief of army for six years.
The 57-year-old Sharif, whose elder brother died in the 1971 war with India, was chosen by Prime Minister Nawaz Sharif after several months of speculation.
The appointment of Sharif comes amid tensions on the border with India, Pakistan's fight with Taliban insurgents and increased violence in the country.
Pakistani analysts view Sharif, who will head the 600,000-strong army, as a moderate who sees the militant threat inside Pakistan as just as important as the strategic tussle with India.
Image: Pakistan's outgoing army chief General Ashfaq Kayani hands over the baton of command over to the newly appointed army chief General Raheel Sharif during a ceremony at army headquarters in Rawalpindi ' Photograph: Mian Khursheed/Reuters