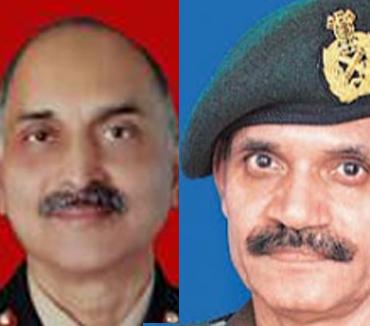 The dust has barely settled after General VK Singh's Supreme Court battle to be army chief for another year when another senior general is approaching the court with a petition which, if accepted, could make him the next army chief, instead of Lt Gen Dalbir Singh, the eastern army commander who is currently in line.
Business Standard has learnt that Lt Gen Ravi Dastane, currently the deputy chief of the tri-service Integrated Defence Staff, will shortly file a petition with the Armed Forces Tribunal, a high court-level legal body that adjudicates on military matters.
"My client has been unfairly denied the appointment of army commander, for which he fulfilled every condition. Instead, a post was kept vacant for Lt Gen Dalbir Singh who was under a vigilance ban. This was procedurally incorrect, and I will request the Honourable court to set it aside," says Major (Retired) Sudhansu Pande, who will represent Gen Dastane in court.
After commanding the Leh-based 14 Corps in 2011-12, Gen Dastane is eligible to be appointed an army commander, a pre-requisite for becoming army chief. The army has seven commands: six geographical (northern, western, south-western, southern, central and eastern); and one functional command, the Army Training Command or ARTRAC. There is also the tri-service Andaman & Nicobar Command, commanded in turn by officers from the army, navy and air force.
The key date in the current dispute is May 31, 2012, when two army commander posts fell vacant with the retirement of former army chief, Gen VK Singh, and the western army commander, Lt Gen Shankar Ghosh.

Army records examined by Business Standard indicate the three senior-most generals on that day who were eligible to become army commanders (the pre-requisite being that they must have commanded a corps) were, in order of seniority, Lt Gen Dalbir Singh, followed by Lt Gen Sanjiv Chachra, followed by Lt Gen Ravi Dastane.
As was widely reported in the media at the time (and corroborated by Major Pande), Lt Gen Dalbir Singh was under a discipline and vigilance (DV) ban, having received a show-cause notice from the former Army chief, Gen VK Singh, for a botched operation by the 3 Corps Intelligence Unit under Dalbir's command.
With Dalbir ineligible for elevation because of the DV ban, the Army appointed Chachra as western Army commander (MS Branch signal 388218/2012/MS(X)/79 dated May 30, 2012). Dastane, however, was not given the second Army commander vacancy. Instead, it was kept vacant until Lt Gen Dalbir Singh's showcause notice was nullified on June 8 by Gen Bikram Singh, who had taken over as Army chief.
On June 15, Lt Gen Dalbir Singh was appointed the eastern Army commander through MS Branch signal 388246/ 2012/MS(X)/94 dated June 15, 2012. Two weeks later, the MS Branch restored his seniority of June 1, 2012, through MS Branch letter A/45751/2012/ LG/Army Cdr/EC/MS(X) dated June 24, 2012.
Dastane's Statutory Complaint to the MoD, filed on August 6, objects to the differential standards applied, in which one vacancy was filled by appointing Lt Gen Chachra, while "reserving" one vacancy for Lt Gen Dalbir Singh, and granting him retrospective seniority.
"They appointed Lt Gen Chachra because he was retiring on May 31. But my client was as eligible as he was, and if Chachra was considered for army commanders' appointment on May 31, that concession should also have been given to me. The government could have taken a stand that we will not appoint anyone before Dalbir's showcause notice is resolved. But they considered and appointed Chachra," points out Pande.
The next army commander's vacancy arises only on January 31, by when Dastane would have less than two years of residual service, rendering him ineligible by current guidelines to be appointed Army commander.
Dastane's lawyer says his petition to the Armed Forces Tribunal will plead for his promotion as Army commander with effect from June 1, 2012, and that he be physically appointed to head the next Army command that falls vacant.
If this is granted, says Dastane's lawyer, the general will have a strong legal case to demand seniority above Dalbir Singh, who was appointed only on June 15. That would make Dastane the senior-most qualified lieutenant general on July 31, 2014, when the current chief, Gen Bikram Singh, retires. The MoD convention has long been to appoint the senior-most qualified officer to succeed an outgoing chief.
The MoD's viewpoint, say ministry sources, is that Lt Gen Dalbir Singh's claim was alive on June 1, though subject to a decision on his showcause notice. The MoD, therefore, left one Army commander's vacancy unfilled, in anticipation of a decision on the show-cause notice.
Image: Lt Gen Dalbir Singh (left) and Lt Gen Ravi Dastane