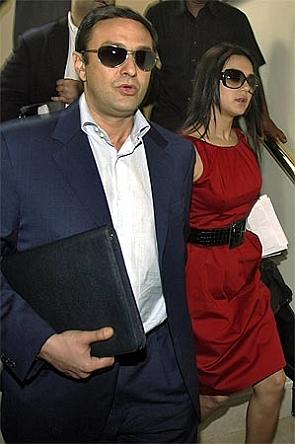 Industrialist Ness Wadia, facing allegations of molesting his former girlfriend and Bollywood actress Preity Zinta, on Wednesday wrote to the Mumbai police listing the names of nine witnesses he wants quizzed in the case even as investigators are likely to record his statement in the next 48 hours.
In a letter addressed to the investigating officer of the case registered by the Marine Drive police station, Wadia described as "false" the charges levelled against him by Zinta.
"We are hereby providing a list of persons who were present at the Kings XI v/s Chennai Super Kings match at Wankhede stadium on May 30, 2014. We believe these persons who were present would be able to provide independent and truthful facts about the events that took place at the stadium on that evening with regard to the false complaint filed by Priety Zinta against me," reads the letter delivered to the police station this afternoon by a representative of Wadia.
This is the first formal communication by Wadia with the police after an FIR was registered against him on June 12 rpt June 12.
The names of witnesses mentioned by Wadia are: Serieka Lal, Loretta Joseph, Pooja Dadlani, Anneline Adams, Farah Oomerbhoy, Sweetie Burman, Kamlesh Shah, Rayaan Mustapha and Sharat Nath.
In her complaint of June 12, Zinta had accused Wadia of molesting, abusing and threatening her during an Indian Premier League encounter between Kings XI Punjab and Chennai Super Kings on May 30.
Despite their break-up, Wadia and Zinta have continued their business ties and are co-owners of Kings XI Punjab team. The Marine Drive police have registered a first information report against Wadia under Indian Penal Code Sections 354 (assault or criminal force to woman with intent to outrage her modesty), 504 (intentional insult with intent to provoke breach of peace), 506 (criminal intimidation) and 509 (word, gesture or act intended to insult the modesty of a woman).
Deputy Police Commissioner Ravindra Shisve, said, "We will examine the relevance of the letter. If required, these witnesses will be called to record their statements."
Wadia, meanwhile, is likely to be questioned in the next two days. "We may call Wadia in the next 48 hours to question him with regard to the case," said another officer.
The Marine Drive police have so far recorded statements of 11 witnesses, six of whom have been described as "crucial witnesses" by the investigators.
Among those whose statements have been recorded are IPL Chief Operating Officer Sundar Raman, Board Of Control For Cricket in India Secretary Sanjay Patel and COO of Kings XI Punjab Fraser Castellino.
Witnesses Danish Merchant, Jai Kanojia and Parul Khanna have confirmed that Wadia "pulled" Zinta by hand during a "heated" argument between the two on May 30, police said, adding, "Castellino stated he did not see any fight or argument between the two."
Meanwhile, Zinta broke her silence over questions being raised over her filing a case against Wadia, saying there was no ulterior motive and that it was not done for "cheap publicity".
The actress took to social networking site Facebook to rubbish reports that she had filed the case against Wadia for money, saying she did a commercial for Go Air, an airline promoted by the Wadias, for free and also donated the money she won in 'Kaun Banega Crorepati' to the Wadia Children Trust.
"... IPL was my project from the start and for the record not only did I pay for myself (5 crore) when I got into the IPL (bid) I paid for Ness too! 5 crore! (Proof of my financial commitment in the IPL is with the BCCI.) To be fair to him he did pay me back a couple of months later (without any premium) so Hope the money theory is put to end once and for all (sic)," she said.
The actress, who on June 30 got permission of the Mumbai police to fly abroad, clarified that contrary to reports she did not file the case for publicity. "I don't need publicity, specially cheap publicity."
"JEALOUSY ? Life moves on, people move on and so have I, and Happily so. I firmly believe and live by the principle that the Windscreen is always larger than the rear view mirror," she added.

Image: Industrialist Ness Wadia with actress and former girlfriend Preity Zinta