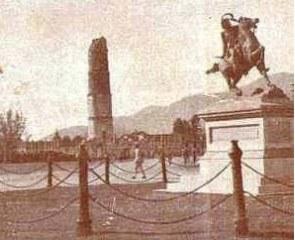 The 7.9-magnitude earthquake that struck Nepal and neighbouring Indian states on Saturday, leaving a massive trail of death and devastation, jolted memories of the atastrophic 1934 tragedy, which had claimed several thousands of human lives on both sides of the Himalayas.
The devastating quake of 8.3-magnitude on Richter scale that fateful day of January 15 had its epicentre at some 10 kms south of Mt Everest and the shock wave flattened countless houses and destroyed priceless architectural heritage in both the countries.
In Nepal, three important cities -- Kathmandu, Bhaktapur and Patan were badly hit, while in India, the region of north-Bihar including Monghyer (now Munger), Darbhanga, Muzaffarpur were practically levelled.
While Saturday's disaster, with its epicentre at Lamjung, around 80 kilometres northwest of Kathmandu, has claimed several hundreds of lives, including nearly 900 in Nepal only and casualties reported in Bihar and West Bengal, the 1934 tragedy is said to be the worst in Nepal's recorded history.
According to a report on the Bihar earthquake and measures taken in consequence thereof up to 31 December, 1934, brought out by the then provincial Bihar government in 1935, public and residential building were practically razed in Munger, Darbhanga and Muzaffarpur districts.
Railway tracks were twisted at several places and sand geysers had erupted at many sites, the report said.
The iconic 'NaulakhaPalace' built by Raj Darbhanga, the erstwhile Royal family of Bihar in Madhubani's Rajnagar town in the district was badly damaged, it said.
NargaonaPalace, LaxmiVilasPalace and several other landmarks in Darbhangha also suffered great damage. Mumbai-based filmmaker Nitin Chandra, who returned to Patna from Nepal this morning after a film shoot there said, "We (cast and crew) kind of feel lucky...We just landed here (Patna) this morning. I was at my home and saw the walls of my room shaking. My prayers are with the family of the victims."
Incidentally, before Nepal schedule, Chandra's team was shooting in Darbhangha, including at the ruins of the 'NaulakhaPalace', when Bihar was hit by a massive storm.
Kathmandu's Darbar Square was completely damaged in the quake. The UNESCO World Heritage site was also badly damaged in the 1934 tremblor.
The 19th century DharharaTower, which too was damaged in the 1934 earthquake, and was rebuilt later, was practically obliterated.
The 50.5-metre-high tower in Kathmandu was reduced to just its base, from a tourist landmark to practically a graveyard, as at least 180 bodies were retrieved from its rubble.
Image: The Dharahara tower after the 1934 earthquake. Photograph courtesy: M J Brahma Sumsher