Nepal on Sunday adopted its new fully secular and democratic constitution, achieved after seven years of painstaking deliberations, amid violent protests by minority Madhesi groups over a seven province federal structure.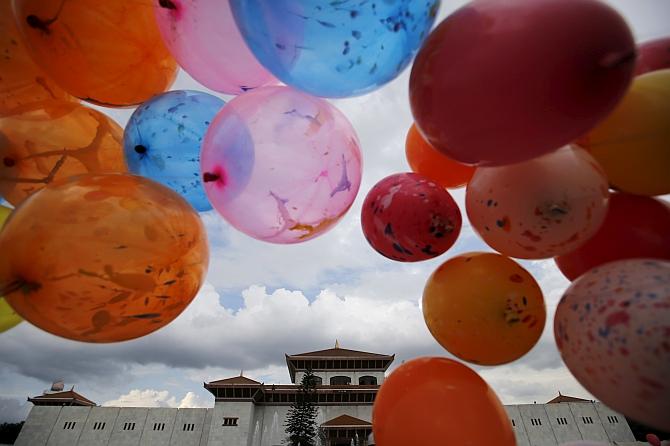 "I announce the presented constitution of Nepal, passed by the constituent assembly and authenticated by the chairman of the constituent assembly, effective from today, September 20, 2015, before the people of Nepal," President Ram Baran Yadav said as he unveiled the statute in parliament.
"I call for unity and cooperation of all at this historic moment," he said at the special ceremony at the constituent assembly hall in Naya Baneshwor to mark the Himalayan nation's transformation into a secular, federal democracy from a Hindu monarchy.
He added: "The constitution is the common document of all of us to protect our freedom, independence, geographic integrity, and sovereignty in people."
With this the interim constitution has been annulled.
President Yadav said the newly promulgated 'Constitution 2072' has institutionalised republicanism in the nation. He hoped that the constitution would lead Nepal to economic development.
The new constitution has given an opportunity to maintain unity in diversity in the nation and ensure rights of all, he added, while addressing the final meeting of the CA as the assembly unanimously endorsed an acknowledgement motion, thanking the president for announcing commencement of the statute.
It has been endorsed by 85 per cent of the 601 members of the CA and has the provision of a bicameral legislation.
The lower house or the house of representatives will have 375 members and the upper house has 60 members.
The constitution has 37 divisions, 304 articles and 7 annexes. The seven provinces will be finalised by a high-level commission within a year.
Today's historic moment came amid protests by Madhesi groups over the issue of federating the country.
Violence surrounding the federal structure that will divide the country into seven provinces has triggered violence in the Himalayan nation, claiming at least 40 lives including one reported on Sunday.
Image: Decorated balloons are pictured in front of the parliament where President Ram Baran Yadav formally promulgated the new constitution in Kathmandu, Nepal September 20, 2015. Photograph: Navesh Chitrakar/Reuters