Talk of a blackout by other news channels in solidarity remained inconclusive because of the heavy news agenda on that day.
Arnab Dutta reports.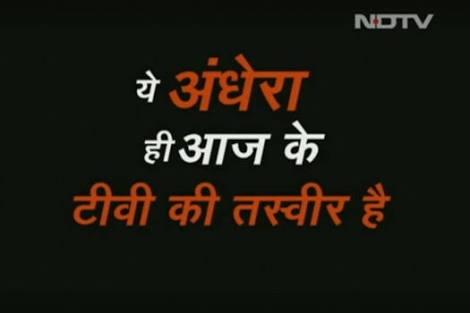 NDTV India, the news channel asked by the government to go off air for 24 hours for its coverage of a terrorist attack, is expected to move court over the temporary blackout.
The channel might file an affidavit on Monday, November 7, against the information and broadcasting ministry order of November 2 that accused it of divulging sensitive information during its news broadcast on January 4 of the terrorist attack on the Pathankot air force base and the counter-strike by security forces in which several insurgents were killed.
Citing a January 4 military press conference in Pathankot, editors across media houses said all the information the channel gave out was made public by government agencies.
At a press conference held jointly by the army, air force and National Security Guard officials on January 4, the media was briefed about the counter-insurgency operation, including the position of properties, senior officials present, number of soldiers deployed and the number of terrorists killed.
Sources said NDTV India would argue in court the information it aired was divulged at the press conference and that its coverage did not reveal any sensitive information.
NDTV India has been asked to go off the air from midnight of November 9, when the results of the US presidential election will be announced.
Talk of a blackout by other news channels in solidarity remained inconclusive because of the heavy news agenda on that day.
But the media has widely condemned the I&B ministry order. 'Gov should impose financial penalties but never take channel off air if laws are broken — against press freedom,' tweeted Vineet Jain, managing director, Bennett, Coleman & Co.
'Banning channels dangerous weapon in hands of government. Should respect well-established self-regulation,' Aroon Purie, editor-in-chief and chairman, India Today Group, tweeted.
Siddharth Varadarajan, founder editor, The Wire, Rahul Kanwal, managing editor, India Today and AajTak, and historian Ramachandra Guha also tweeted condemning the order.
"The News Broadcasting Standards Authority was created as a self-regulatory body for the industry. The government could have asked it to consider the matter if it thought that there was a violation by NDTV India," said Rajdeep Sardesai, consulting editor at India Today.
"Taking such an action months after a news broadcast indicates there is more to it than meets the eye. If the authorities felt that there was a violation by NDTV India then they could have asked the channel to remove the videos," said Bhupendra Chaubey, executive editor at CNN-IBN, Network 18.
Politicians also joined in condemning the order. Congress Vice-President Rahul Gandhi and West Bengal Chief Minister Mamata Banerjee called the government's order 'shocking.'
'This is an attack on democracy. (Our) country is heading towards dictatorship and emergency,' said Rashtriya Janata Dal chief Lalu Prasad.
IMAGE: The blank screen on NDTV India as prime time anchor Ravish Kumar delivered his opening riff on the state of news television journalism in India.