Security forces say Naxals have amassed nearly Rs 1,500 crore through extortion, kidnapping, looting and the narcotics trade.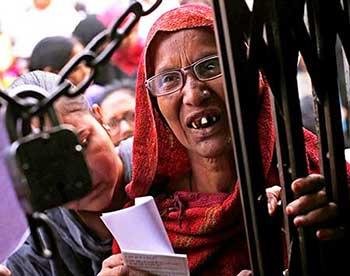 In a bid to evade scrutiny, Naxals in Jharkhand are forcing elderly people to exchange their unaccounted money after demonetisation of Rs 1,000 and Rs 500 notes.
According to the police and central security officials, Naxals have amassed nearly Rs 1,500 crore through extortion, kidnapping, looting and the narcotics trade.
Residents and cops in Latehar district, one of the most Naxal-affected areas in the state, say the left-wing extremists are now preying on the elderly to deposit the cash into their accounts, using the cap of Rs 2.5 lakh deposit in one go.
A villager tells PTI that a few days ago, an elderly woman, "who was unable to even recognise notes correctly," had gone to a state-run bank to deposit lakhs in her Jan Dhan account. "She, however, went back without depositing the money, saying she was asked to show PAN card, which she did not have," he says on condition of anonymity.
Another villager, also on condition of anonymity, notes that while many elderly people are being forced to comply with the Naxals' instructions, in some cases Naxal sympathisers are depositing the money willingly after deducting their "share," which ranges from 10 per cent to 30 per cent.
"Naxals are frustrated with the government's move demonetising Rs 500 and Rs 1,000 notes. They are threatening locals to deposit their money into banks so that the cash does not become defunct," the villager says.
"It is correct," confirms Latehar Superintendent of Police Anoop Birtharay. "We have received information that Naxals are using villagers to deposit their extortion money into bank accounts so that it can be converted into legal currency."
"Not only elderly people, but young people could also be involved in the practice. We suspect that some locals, who could be Naxal sympathisers providing logistical support to Naxals, are behind it," he adds.
Birtharay says the police are keeping a close vigil -- checking vehicles checking and conducting raids upon receiving tip-offs.
"We got information that some Naxals from Bihar were scheduled to hold a meeting with their Jharkhand counterparts here but panicked upon learning that police have been conducting raids to nab them," he says.
Inspector General of Central Reserve Police Force (Jharkhand) Sanjay A Lathkar says they too have received similar information, and like the state police they too are "keeping a close watch on Naxals' movement in the state."
The CRPF recently recovered Rs 25 lakh from two suspects of People's Liberation Front of India, a breakaway faction of CPI-Maoist and one of Jharkhand's several dominant extremist outfits. The two arrested suspects are said to have links to PLFI supremo Dinesh, a CRPF official says. Security agencies suspect that the seized cash could be part of funds used for Naxalite activities.
Image: A woman waiting to enter a bank to exchange her old high denomination bank notes. Image used for representational purposes only/Adnan Abidi/Reuters