Intelligence inputs suggest that there is a meticulously-woven Maoist network in the jungle zones of Kerala. Venu Muruvelil reports.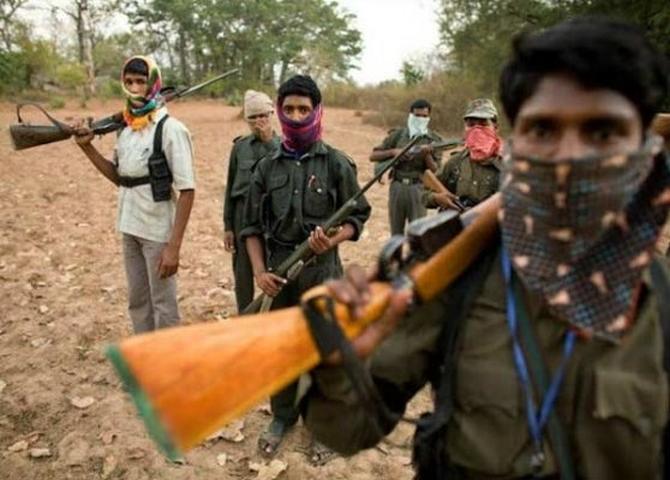 The very mention of Naxalism in Kerala evokes dreadful memories of Narayankutty Menon, a landlord in Kongad village in Palakkad district, who was beheaded 'in one slash' by a group of 20 Naxalites. The late 1960s saw many such sensational attacks by armed naxalites on policemen and landlords in North Kerala.
Though the former Chief Minister late K Karunakaran and his hand-picked police officers like Jayaram Padikkal and K Lakshamana had to face the flak for ruthlessly dealing with Naxalites, their strong-arm tactics helped root out Naxalism from Kerala soil.
Since then, many leaders of the Naxalite movement like K Ajitha, Grow Vasu, Philip M Prasad and K Venu laid down arms and took to normal family and social life.
Of late, there are disturbing signs of the armed movement rearing its head again in the garb of CPI-Maoist, a new party formed by merging two Naxalite outfits -- The CPI-Maoist and CPI-ML-Naxalbari.
Last year, there was a chain of attacks involving Maoists across the state.
The corporate offices of NGIL and Nitta Gelatin in Kochi, a private tourist resort in Thirunelli in Wayanad district, Forest Range Office at Mukkali near Silent Valley, KFC and McDonald's outlets in Palakkad district, police stations in Wayanad district and a stone crusher unit in Kannur were among the targets of Maoist attacks.
Intelligence inputs suggest that there is a meticulously-woven Maoist network in the jungle zones of Kerala.
Kerala Home Minister Ramesh Chennithala himself has told the state assembly that the government was in receipt of intelligence reports of Maoist presence in six districts of the state -- Palakkad, Malappuram, Kozhikode, Wayanad, Kannur, and Kasaragod.
Police have seized pro-Maoist flex boards and wall posters in some places in these districts exhorting the working class to prepare for an 'armed battle' against the 'ruling elite'. The state intelligence has warned of the presence of CPI-Maoist cadres in tourist destinations in the state, including Alappuzha.
The Union home ministry too has alerted that the Maoists are making efforts to strengthen its influence in South India, particularly on the tri-junction of Tamil Nadu, Kerala and Karnataka.
Maoist's plans reportedly include creating a base on the border of Kerala and Karnataka. The home ministry has asked Kerala chief minister Oomen Chandy to take immediate preventive measures to keep in check the spread of left-wing extremism in the state.
In a major breakthrough for the investigating agencies, the Tamil Nadu police recently arrested Kerala's top CPI-Maoist leader Roopesh, who is wanted in at least 20 cases in Kerala, along with his wife and some other activists. Some local television channels had telecast a video that showed Roopesh in army attire with a sten-gun giving a monologue on waging an armed struggle against the government.
Roopesh and others arrested along with him are now in jail.
In an emotional appeal to Roopesh's two daughters through a Facebook post, Ramesh Chennithala said: "You are not responsible for the wrong path opted by your parents. I sincerely wish that your life should not be clouded due the activities of your father. You should not fall into the false propaganda and should concentrate on your education."
After the arrest of Rupesh and his group, who operated in the Western Ghats area, no major Maoist activity has been reported in Kerala. But is it the proverbial lull before the storm?
Alse Read:

With liquor bars down, Kerala is high on psychotropic drugs
Can lavish Malayali weddings be banned by law?