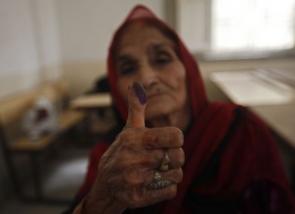 Nawaz Sharif's Pakistan Muslim League has bagged 124 of the 272 directly elected seats in Pakistan's National Assembly but has fallen short of a majority. The party is poised to form the government with the support of independents and smaller parties.
The Election Commission on Thursday announced results for 261 constituencies of the National Assembly or lower house of the Parliament. The results of the remaining 11 constituencies will be declared later, officials said.
The PML-N is set to form the next government after emerging as the single largest party. PML-N chief Nawaz Sharif will become the prime minister for a record third term.
The PML-N's two closest rivals -- the Pakistan People's Party, which led the last government and Imran Khan's Pakistan Tehrik-e-Insaf -- were far behind with 31 seats and 27 seats, respectively.
The Muttahida Qaumi Movement won 18 seats, Jamiat Ulema-e-Islam won 10, PML-F won five seats, Jamaat-e-Islami and Pashtunkhwa Milli Awami Party won three seats each, National People's Party and PML-Q two seats each, and Awami National Party, Balochistan National Party, Qaumi Watan Party, PML-Z, National Party, All Pakistan Muslim League, Awami Jamhoori Ittehad Pakistan and Awami Muslim League one seat each.
Independents bagged 28 seats in the National Assembly and are expected to play a key role in helping the PML-N to form the government.
Elections in two parliamentary constituencies were terminated while polls were postponed in one constituency.
Results have been withheld in two constituencies and re-polling has been ordered for several polling stations in six constituencies.
The May 11 general election marked the first democratic transition in Pakistan's 66-year history. Nearly 60 per cent of the more than 86 million voters participated in the polls.