The two were convicted on July 6 in the Avenfield properties case linked to the Sharif family's ownership of four luxury flats in London.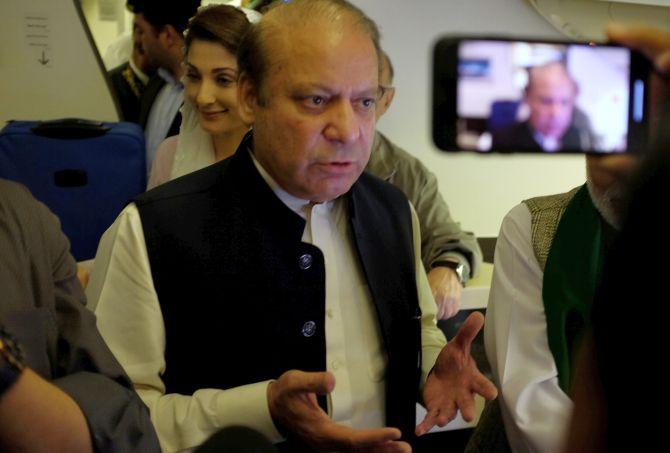 Pakistan's former prime minister Nawaz Sharif and his daughter Maryam were arrested on Friday night upon their return to the country after their conviction in one of the three corruption cases against the powerful political family, less than two weeks before the country goes to polls.
The plane carrying Sharif, the supremo of the Pakistan Muslim League-Nawaz, and Maryam landed at Lahore's Allama Iqbal Airport at 9:15 IST, nearly three hours late from the scheduled arrival.
The Etihad Airways flight EY243 arrived in Lahore from Abu Dhabi. Earlier they flew to the UAE capital from London, where Sharif's wife Kulsoom, suffering from throat cancer, is battling for her life.
According to an airport official, they surrendered before a team of the country's anti-graft body -- The National Accountability Bureau -- without any resistance.
"They will be transported to Islamabad by a helicopter," he said.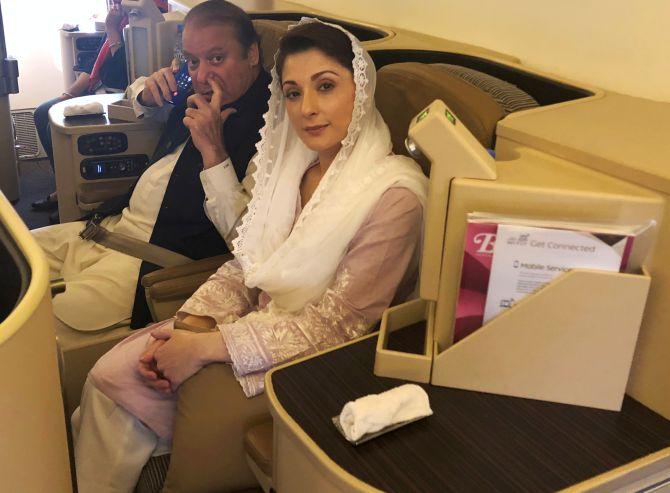 Sharif reportedly refused to sit in the vehicle of the Rangers to get to the airport terminal. Federal Investigation Agency officials took their passport for immigration.
According to media reports, dozens of security officials entered the plane after it landed and asked other passengers to leave. The duo's passports were seized by a three-member FIA team, and both were permitted to meet Begum Shamim Akhtar, Sharif's mother, in the Haj Lounge.
The two were convicted on July 6 in the Avenfield properties case linked to the Sharif family's ownership of four luxury flats in London.
Both Sharif, 68, and Maryam, 44, have been sentenced by an accountability court to 10 and 7 years in prison respectively.
The Sharif family is now facing two more corruption cases in the accountability court -- Al-Azizia Steel Mills and Flagship Investments -- in which they are accused of money laundering, tax evasion and hiding offshore assets.
Sharif and Maryam are expected to be sent to Adiala Jail in Rawalpindi on Friday night.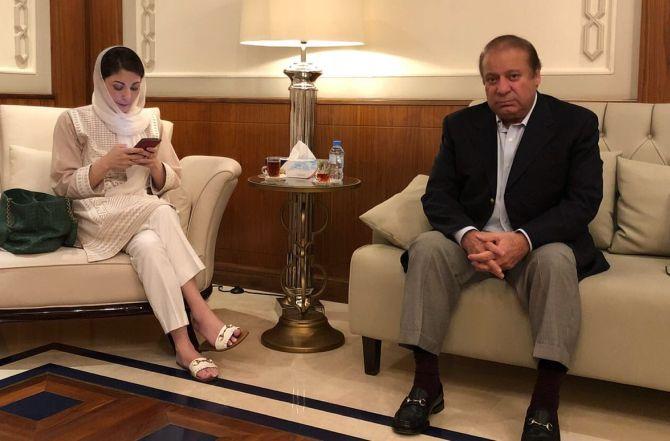 Around 10,000 police officers have been deployed across the city to maintain law and order. The Punjab government has suspended mobile and internet services in Lahore.
Sharif's PML-N party, led by its president and Sharif's younger brother Shahbaz, on Friday managed to take out a rally despite imposition of section 144 that bars assembly of more than five people.
Earlier, media reports and an official of the Civil Aviation Authority had said their plane was diverted to Islamabad to avoid any law and order situation in Lahore as a large number of the PML-N workers were heading in hundreds of vehicles to the city to cheer up their leader.
The rally kicked off at the Lohari Gate in the afternoon and could manage to proceed a few kilometres as party workers struggled to remove cargo containers on their way.
Close to the airport, Sharif's supporters clashed with police which otherwise did not stop them from removing containers.
"It appears the Punjab caretaker government had reached a deal with the of PML-N withdrawing thousands of policemen to give a free hand to reach close to the Lahore airport and wind up the rally," a senior police officer told PTI.
"We have orders from our top command not to take action against the PML-N rally participants," he said.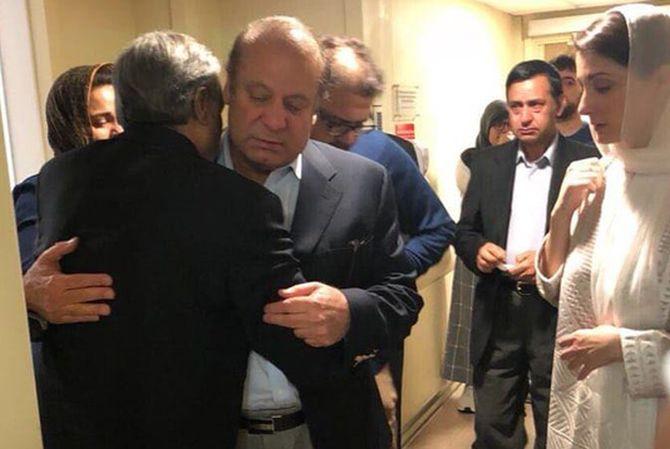 The PML-N workers joined in the rally from different points in Lahore.
Wearing a shirt with Sharif's picture on it, Muraz Ali had come all his way from Bahalwapur, some 400km from Lahore, to participate in the rally.
"I love Nawaz Sharif. I am even ready to sacrifice my life for him. I will go on fast if my leader is arrested," Ali said.
Talking to reporters before reaching the airport, Shahbaz said "a sea of people" has turned up to give historic reception to Sharif.
"The people of Lahore has given a verdict ahead of July 25 polls," he declared. "I am thankful to the people of Lahore for coming out in such a huge number," he said, adding that the people have rejected the decision of the court to convict Sharif and Maryam.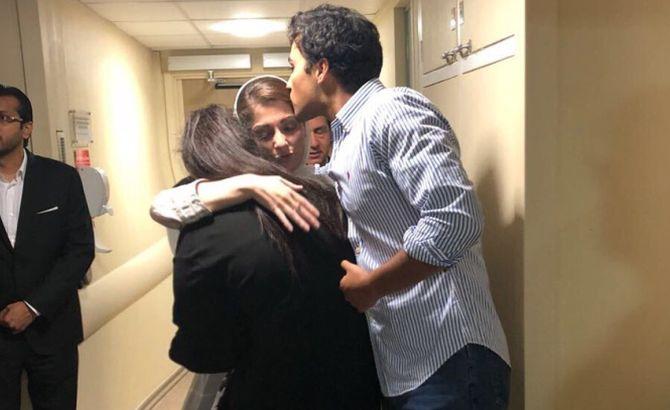 Speaking to the BBC at Abu Dhabi airport as he waited to change planes, Sharif said: "What credibility will these elections have when the government is taking such drastic action against our people and this crackdown is taking place all over the country?"
In a video message, tweeted by Maryam, the former premier urged his followers to stand with him and "change the fate of the country".
"The country is at a critical juncture right now," a grim looking Sharif said.
"I have done what I could. I am aware that I have been sentenced to 10 years [in prison] and I will be taken to a jail cell straight away. But I want the Pakistani nationals to know that I am doing this for you," he said.
Sharif was disqualified by the Supreme Court last year in the Panama Papers case.
Sharif has been one of the country's leading politicians for most of the past 30 years. He remains popular, especially in Punjab, the most populous and electorally significant province.
He and his party have accused the military of being behind his conviction, saying it is going after the PML-N for its criticism of the security establishment.
The military, which has ruled Pakistan for about half of its 70-year history, has denied it has any "direct role" in the elections or the political process.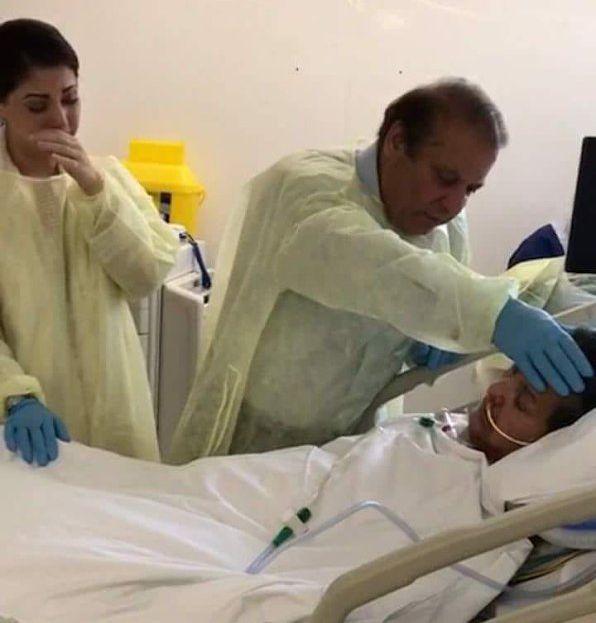 Chronology of major events leading to Sharif's arrest
April 4, 2016: The International Consortium of Investigative Journalism publishes the Panama Papers, exposing tax evasion by the world's elite through off-shore accounts and shell companies. The documents include the name of the Sharif family.
April 5, 2016: Sharif sets up a judicial committee to investigate the allegations, denies charges.
April 26, 2016: Opposition parties reject the judicial commission set up by the government.
November 1, 2016: The Supreme Court decides to pursue a case related to Nawaz Sharif.
November 7, 2016: PML-N submits Qatari prince's letter to the Supreme Court containing information about the London flats that were at the centre of the Panama Papers scandal.
January 6, 2017: Sharif's daughter Maryam Nawaz submits details of assets after the Supreme Court resumes hearing.
April 20, 2017: The Supreme Court orders formation of a joint investigation team with a split 3-2 verdict to probe the corruption charges against Sharif.
May 5, 2017: SC formally constitutes the joint investigation team.
May 22, 2017: The joint investigation team presents its first bi-weekly report to the Supreme Court.
May 24, 2017: The joint investigation team sends questionnaires to Sharif and his two sons - Hussain and Hassan.
June 13, 2017: The joint investigation team submits report to the Supreme Court on obstructions to its work, blames government institutions for "creating impediments in the collection of evidence".
June 15, 2017: Sharif appears before the joint investigation team for questioning, becoming the first sitting Pakistan prime minister to appear before any investigating agency.
June 17, 2017: Sharif's younger brother and chief minister of Punjab Shahbaz Sharif are questioned by joint investigation team.
July 5, 2017: Sharif's daughter Maryam appears before joint investigation team.
July 7, 2017: Former Qatari premier Sheikh Hamad bin Jassim bin Jaber Al-Thani sends a letter to the joint investigation team, asking it to record his statement at his palace before submitting its final report to the Supreme Court.
July 10, 2017: The joint investigation team submits final report to the Supreme Court.
July 28, 2017: The five-member Supreme Court bench unanimously rules against Sharif, disqualifying him from office.
August 15, 2017: Sharif files three separate appeals in the Supreme Court to review its verdict in the Panama Papers case that resulted in his disqualification.
September 14, 2017: Sharif and his children summoned by an anti-graft court to appear before it on September 19 in two more corruption cases.
September 15, 2017: The Supreme Court dismisses the review petitions filed by Sharif, his children and Finance Minister Ishaq Dar, challenging his disqualification in the Panama Papers scandal.
September 22, 2017: Pakistan's anti-graft body freezes accounts and seizes properties of Sharif and his family.
September 26, 2017: Sharif for the first time appears before an accountability court to face the corruption charges filed against him by the National Accountability Bureau in the Panama Papers scandal.
October 3, 2017: Sharif re-elected as the president of Pakistan's ruling PML-N party after Parliament passed a controversial bill, paving the way for the ousted prime minister's return to politics.
October 9, 2017: Maryam Nawaz, Sharif's daughter, son-in-law get bail in the Panama Papers case.
October 19, 2017: Pakistan anti-graft court indicts Sharif, his daughter, son-in law.
October 26, 2017: Pakistan court issues warrant for Sharif after he fails to appear.
November 2, 2017: Sharif returns home from UK to face trial.
November 15, 2017: Pakistan anti-graft court begins trial of Sharif, his family.
February 21, 2018: Pakistan Supreme Court disqualifies Sharif as PML-N chief.
April 13, 2018: Sharif barred from contesting elections for life after the Pakistan Supreme Court verdict.
July 6, 2018: Sharif sentenced to 10 years rigorous imprisonment in the Avenfield properties case.
July 10, 2018: Pakistan puts Sharif and daughter on exit control list.
July 12, 2018: Pakistan anti-corruption court dismisses Sharif's plea to transfer remaining two corruption cases.
July 12, 2018: Sharif and Maryam leave from London for Pakistan.
July 13, 2018: Sharif and Maryam arrested on their arrival in Lahore.