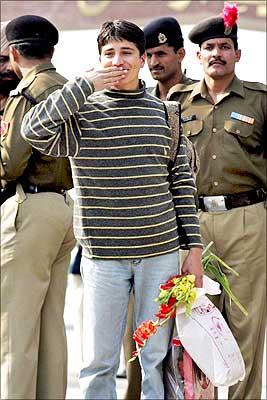 Pakistani teenager Nasir Sultan, whose craze for a career in Bollywood landed him in a jail in Punjab, reunited with his father on Friday after being handed over to Pakistani authorities in Attari sans an unfulfilled dream of meeting his idol Shah Rukh Khan.
Indian authorities withdrew the case against 15-year-old Nasir, released him from prison and repatriated him after his case was taken up by leading rights activist Ansar Burney and other civil society groups.
Nasir had been booked under the Foreigners Act after his arrest.
The boy was received by his father Sultan Zareen and representatives of the Ansar Burney Trust on his arrival at the Pakistani side of the Wagah border post. Burney, the former federal minister for human rights and chairman of the Ansar Burney Trust, thanked India and the media for their support for efforts to free Nasir.
The boy had crossed the border in Ferozepur sector in a school uniform and without travel documents on August 16. He was arrested by the BSF.
Nasir was lodged in the Faridkot juvenile home since then. The Union Home Ministry issued the orders for his release on Thursday.
The boy was given a warm send-off from the juvenile home by the local police and civil officials, including Faridkot Deputy Commissioner V K Meena.
With tears in his eyes, he thanked the other inmates and also expressed the hope that another Pakistani boy Sunil, who is also lodged there, would be repatriated soon.
The case against the teenager was being heard by the district court at Ferozpur in Punjab. Burney had filed a petition seeking his release in the Punjab and Haryana High Court.
Nasir, a die-hard fan of Shah Rukh, hails from a remote town in Dir district of Pakistan's troubled North West Frontier Province. Like most Pakistani boys his age, Nasir is an avid Bollywood fan and is fascinated by the stunts in Hindi films.
Two days after he crossed the border on August 16, his father, who works at a petrol pump, got a call from Nasir, who said he was on his way to Mumbai. This was followed soon after by the news of his arrest. He is a class X student in the government school in his village Chukiatan in Dir.
Image: Pakistani teenager Nasir Sultan blows a kiss before returning to Pakistan at the Wagah Border Post.
Text: PTI | Photograph: Narinder Nadu/AFP/Getty Images