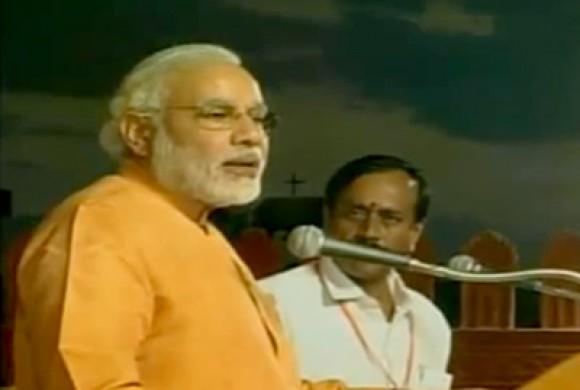 Narendra Modi began proceedings on Thursday a two-minute silence in memory of those who were killed in Jammu that morning and those killed in the Kenya mall terror attack a week ago. Then he spoke three lines in Tamil which the crowd loved, though they were equally amused with his pronunciation.
"Tamil Fishermen are being arrested by such a small country like Sri Lanka and our central government is helpless," he thundered.
"We need someone like him, only then will the Sri Lankans realise that they are dealing with a man. He will put a stop to it. He is from the same party that exploded nuclear bombs," said M Ashok, an online commodity trader.
"I agree he will put the fear of God into the Lankans, anyway what do they think? Their country is smaller than even Tamil Nadu and they have the gall to destroy our catch, our fishermen's nets, beat them up, throw stones at them, arrest them, keep them in jail for long periods, put false cases against them that they are smuggling ganja," said V Sathyaseelan, a real estate businessman.
S Suresh said, "He comes across as a strong man. He speaks firmly, he will not be mute like our present prime minister whose only aim seems to be the first non-Gandhi-Nehru prime minister to be at the helm for 10 years. The Lankans will listen to him. He will get back Katchathievu and stop this harassment permanently. The Lankans know that they will not be able to bully him like the Congress".
S Latha said, "He speaks so well, he has got content. He knows what he is talking about and he looks like a man of action. He will act immediately even if it means sending a war ship to Lanka to get our fishermen back".
"The Pakistanis attack us at will, they behead our soldiers, shoot them regularly and what is our prime minister doing? He is eating briyani with Nawaz Sharif," said Modi in Hindi. The crowd roared its approval when it was translated in Tamil.
"They will only respect strength, we won Kargil because A B Vajpayee was in charge. If this mute man was there we would have lost Kargil to the Pakistanis. We need Narendra Modi. Come on man, we have given the Congress 50 years, why not give this man a chance? No one can be worse than Manmohan Singh," said Sathyaseelan.
"Agreed, at least he has a backbone, see how boldly he speaks. He doesn't have to keep looking over his shoulder to see if his boss approves. And he doesn't have to waste his time protecting the son-in-law," added Suresh.
"Pakistan will only keep on its side of the border if it knows that it will get killed if it tries anything foolish. That fear in them only Modi can inspire," said Latha.
"Pakistan used to be in line when Indira Gandhi divided their nation. That was over 40 years ago. Now they need to be up against the Indian army who will be encouraged to shoot first and ask questions later if Modi is at the helm. Now the army must have orders to be mute like their leader," concluded Ashok.
"See how strongly he speaks, we all know the corruption charges against the Congress but he explains it so well. He has a head start of a year. If he continues to address rallies in all parts of the country, he will touch a chord with the people. There will be a ripple effect. The people will awaken. There even might be a revolution and all corrupt forces will be destroyed at one shot," said Suresh.
"I am going to vote for him. I like him. Enough of the Congress" said Latha.
"I also agree with you, we have had enough of the Congress and the DMK lets give the BJP a chance," said Ashok.
"I have never worked for any political party though I vote every time. This time I too feel I should go around canvassing for the BJP. I am ready to do anything to get rid of the Congress. They make me sick," concluded Sathyaseelan.
Image: Narendra Modi speaks at the rally