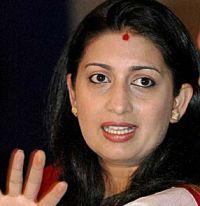 'Tell me one thing that Narendra Modi does and you don't criticise. If he gives a chance to newcomers, you say he forgot the old guard; if he gives a chance to an incumbent you say Modi doesn't give a chance to young leaders. Even if Narendra Modi sneezes people will find a reason to criticise him for that.' BJP's Smriti Irani in her 'weirdest interview' yet.
A tired-looking Bharatiya Janata Party Rajya Sabha member Smriti Irani was at the Ahmedabad airport where she was hopping between terminals on her way to Bhuj where the actor-turned-politician was scheduled to campaign at six different places through the course of the day on Saturday. Before zipping off on her campaign leg, she took time off to speak to Prasanna D Zore. 
Earlier, Irani listened attentively to the flight attendant -- who gave instructions to her on what needs to be done in case the flight lands in an emergency, seated as she was at the emergency exit -- aboard an early morning flight from Mumbai before catching up on much-needed sleep. Waking up ten minutes before landing, Irani makes up her hair and gets ready for a hectic day ahead.
As soon as she comes out of the airport, a BJP worker offers her a saffron cloth which she meticulously wraps around her neck. Consistent efforts by another BJP worker to help her with luggage meets with a stern yet sweet "Tamne khabar chhe, hu maro luggage jatech upadu choo (You know I like to carry my personal luggage myself)," in fluent Gujarati.
A big fan of Narendra Modi and his style of governance, and somebody who has worked with the Gujarat chief minister for almost 11 years now under various programmes, Irani tells Rediff.com that she will vote for him as India's prime minister if her party asks for her vote for the post in a democratic way.
You look very tired. How are you scheduled for the day?
I am doing a lot of up-and-down. Once the campaign bugle is sounded one's schedule does get more hectic than normal. I have been in continuous touch with people even before the elections were announced through various projects. Be it the Sadbhavna Mission or the Vivekananda Yatra or for that matter through mahila morchas we did meetings with women across all 182 constituencies in Gujarat. So it's been a continuous process.
Narendra Modi vs Shweta Bhatt: Is there a contest?
Not at all. Anybody who is aware of the political realities in Gujarat knows that this is no contest at all. It is just a headline-chasing exercise for the Congress party. This particular nomination from the Congress exposes the fact that (suspended IPS officer) Sanjiv Bhatt was pursuing nothing but a farce which is actually a part of the political strategy of the Congress party.
I remember, we questioned why Sanjiv Bhatt wanted to receive packages from Congress leaders or as to why he was directing the Congress leaders during the Sadbhavna Mission to put up anti-Modi posters. It was quite weird to see a police officer doing all this. At that time people had attacked us as to why we were posing these questions. And now Shweta Bhatt's Congress nomination exposes Sanjiv Bhatt's close association with the party. I have observed that since Shweta Bhatt filed her nomination papers, Sanjiv Bhatt is answering media questions.
Narendra Modi's five big achievements…
I can highlight more than five. Roads, electricity, 24-hour three-phase electricity to all cities and villages is a major achievement. Especially when recently 20 states faced complete darkness, Gujarat remained illuminated.
Also employability in Gujarat. The state has balanced growth not only in industry but also agriculture. It is difficult to find a harmonious balance between the two, but Mr Modi has done it successfully.
Women empowerment through water management committees, assistance for women to start their own businesses through Mission Mangalam.
I have done a comparative study of welfare schemes started by the central government and the Gujarat government. Not a penny has been spent after Prime Minister Manmohan Singh made the announcement of Rashtriya Mahila Kosh scheme even after an allocation of Rs 300 crore. Comparatively, the Gujarat government spent Rs 1,400 crore to employ more than 25 lakh (2.5 million) women.
During the state government's programme that tackles malnutrition at village level, each sarpanch (head of a gram panchayat, the basic unit at village level) handed out Rs 2 lakh publicly to tackle malnutrition in their villages.
The Congress party controls and centralises authority but the government of Gujarat not only delegates authority to the lowest rungs of administration but also gives common citizens a chance to interact with the chief minister so that they can put forth their problems and find solutions.
Since you have been touring the state so extensively, do you see the Muslims in Gujarat moving towards the CM?
I am of the opinion that we have given many people across all religious lines tickets to fight in terms of local elections and we have seen amazing victories for them. I am very sure of one thing. In Gujarat or in India where there is a Muslim or a Hindu or a Parsi -- I am married into a micro-minority (the Parsi community) -- the BJP thinks that an Indian can never be a minority in his own country. One has to inculcate a feeling that if I build a road then a Hindu or a Muslim or a Parsi or a Christian can walk on that road. We all have equal right to share water, electricity or road.
So when I look at Indians, especially Gujaratis in Gujarat, I am extremely proud to say that they are all a part of that development process. Every citizen of the state has benefitted equally from the development process and that is why Narendra Modi and BJP have won elections after elections. Because of this particular concept you have seen a continuous wave of victory for the BJP.
Why couldn't the BJP find one Muslim candidate to represent Gujaratis at the state level?
I am an Irani and a member of Parliament in the Rajya Sabha.
There is always some criticism. Tell me one thing that Narendra Modi does and you don't criticise. If he gives a chance to newcomers, you say he forgot the old guard; if he gives a chance to an incumbent you say Modi doesn't give a chance to young leaders. Even if Narendra Modi sneezes people will find a reason to criticise him for that.
I am part of the election committee at the central level and when we decide to give a ticket to somebody we ensure we get the best possible candidate who can sincerely work for his constituency. We don't believe in 'pleasing the media' kind of effort. That's not how we do our politics.
I was not given an opportunity because I am a part of the Parsi community; I was not given an opportunity because I am a woman but because I have a long record of service in the party and I was chosen based on my contribution.
Will Keshubhai's Gujarat Parivartan Party dent the BJP's electoral prospects?
Keshubhai Patel will not dent the BJP's victory in terms of number of seats. I don't believe in speculation of that kind but there is no dent whatsoever. Did you see a big chunk within the BJP joining Keshubhai?
But since he is a very senior gentleman who has served the party for a long time we have respect for him. You will not find a single BJP karyakarta (worker) speaking against him. We have maintained our respect for him and it is for the people of Gujarat to respond to his political programme.
Do you see Narendra Modi playing a leading role at the executive level at the Centre?
That is an answer only Mr Modi can give. I'd like him to lay a national role at all levels. Unlike the Congress our party believes in democracy and takes a collective decision. If anybody asks for my vote you know where my vote is.
Narendra Modi?
Of course.
Your role model in the BJP?
There are two people I have seen in terms of their working. One is Atal Bihari Vajpayee as India's PM. I have seen his work for the party and in the government for Indians and I was extremely touched with the kind of statesman that he was.
Secondly, I have worked with the BJP government in Gujarat under the leadership of Narendra Modi as an MP for the past one year and in the sanghatan (party) I have worked for 10 years with him and the fact that I have a leadership that not only gives a chance to the youth of this country and which respects the experience of the people who has served the party for many years, the fact that the chief minister despite all his achievements looks forward to new ideas in terms of technology from the youth, is what fascinates a karyakarta like me. It is wonderful that our party has got such a big gamut of leadership.
Where are you headed from here?
To Bhuj where six meetings have been scheduled. It is going to be a busy day but I must tell you one thing. This is the weirdest interview I have done at an airport.
Image: Smriti Irani