Congress President Sonia Gandhi on Thursday slammed the Modi government over the Naga peace accord, accusing it of not taking chief ministers of north eastern states into confidence and said it showed its "arrogance".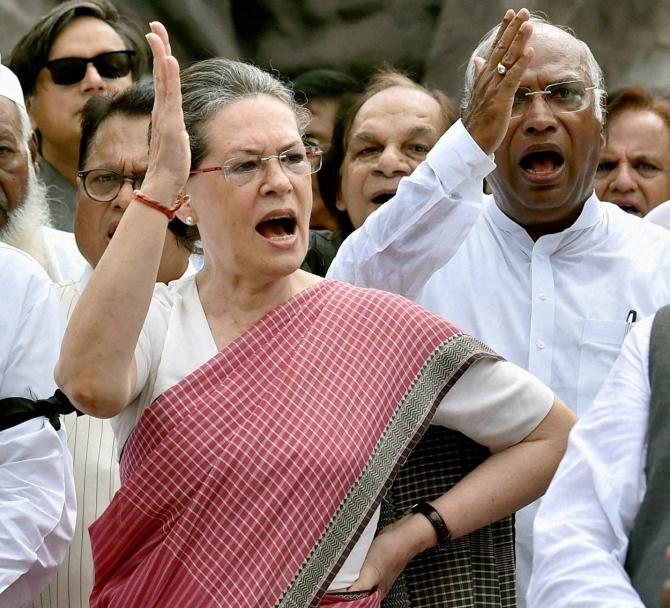 Opening another front against the government, Congress leaders Sonia and Rahul Gandhi, who have been protesting against the suspension of 25 Congress MPs from Lok Sabha, charged that the voice of the three states of Manipur, Assam and Arunachal Pradesh is being "suppressed".
Talking to reporters in Parliament complex, the Congress President said when she called her party's chief ministers in the three states, who are directly affected by the Naga accord, she found that they were "totally blank" on the issue.
"Nobody has even bothered to brief them, perhaps not in detail, but in a wide sense. After all, our chief ministers are directly affected, be it Manipur, Arunachal Pradesh or Assam. So, what do I take from this? From this I take that this government is arrogant.
"This government keeps on saying that everybody has to be taken along and that they will hold consultations with all, will take the views of all the chief ministers. Then what happened? Their arrogance is now even more clear than before. And it is an insult not only to the chief ministers, but to the people of these states and to the federal structure of our country," she said.
The government had on August 3 signed an accord with key outfit National Socialist Council of Nagaland (Isaac-Muivah), which Prime Minister Narendra Modi had described as a "historic" step to usher in peace in the state.
The accord was signed following nearly two decades of peace talks. Congress Chief Ministers like Tarun Gogoi of Assam and Nabam Tuki of Arunchal Pradesh had welcomed the accord.
While welcoming the Naga peace deal, Gogoi had expressed astonishment on why "clauses of the agreement had been kept in the dark."
The Congress president said, "We do not know the exact content of the Nagaland accord. So, we cannot express our views yet. The Prime Minister did call some leaders including myself and said we have very good news. The Nagaland issue which is going on for 20 years is now resolved. I said congratulations to you."
"When we then called our chief ministers, who are are directly affected by this and asked them, they were totally blank," Gandhi said.
The Naga pact is the culmination of over 80 rounds of negotiations that spanned 16 years with first breakthrough in 1997 when ceasefire agreement was sealed.
While the NSCN(IM) is the biggest Naga rebel group which has been maintaining the ceasefire, another faction led by S S Khaplang continues to indulge in violence and was believed to be behind the deadly attack on army in Manipur in June that left 18 soldiers dead and 18 injured.
Protest outside Parliament continues
Meanwhile, keeping up with its offensive over suspension of party MPs, Congress top brass staged a dharna in Parliament complex for the third consecutive day, accusing the Government of "suppressing" their voice.
"Our voice is being suppressed in Parliament," Rahul Gandhi said agitating against suspension of 25 Congress MPs.
Joined by members of the Samajwadi Party, Janata Dal-United and the Rashtriya Janata Dal, the Congress MPs also shouted slogans accusing Prime Minister Narendra Modi of backing Lalit Modi and asked him to break his silence over various controversies including the Vyapam scam.
Both Sonia and Rahul, who was flanked by Sharad Yadav and K C Tyagi of JD-U and Jaya Prakash Naryana Yadav of RJD, vociferously raised slogans along with other protestors denouncing the Narendra Modi dispensation.
SP chief Mulayam Singh Yadav's son Tej Pratap Yadav and party MP Dharmendra Yadav were also present.
"Gujarat Model will not be allowed here, "When Hitlarshaahi did not work, how will Modishaahi work", "End dictatorship", "Prime Minister break silence", "Where the "Achhe din" have gone", "Sushma Swaraj resign", were among the slogans raised by the protestors, who sported black bands on their arms.
Dismissing the government offer of talks to break the logjam, former Parliamentary Affairs Minister Kamal Nath said, "Talks should have been initiated before the session began. No talk happened for 15 days. Now, when only last one week of the session remains, they say lest us discuss.
"Now what talk will happen when only five-six days of the session remain. Congress has made its stand clear," Nath said, making it clear that normalcy is unlikely to return to the House in this session.
When pointed out that the government is accusing the main Opposition of blocking the passage of key bills, Nath said the BJP should not teach Congress a lesson.
"We know what we are doing. They should remember what they had done when they were in opposition..It is sad that MPs have been suspended. I had also been a Parliamentary Affairs Minister. Never before MPs were suspended in this manner," he said.
Party's chief whip in the Lok Sabha Jyotiraditya Scindia had on Wednesday itself ruled out suspended MPs seeking apology of Speaker Sumitra Mahajan, who, he alleged, had acted only Congress Members.
CPI-M members later organised a sit in in front of the main gate of Parliament shouting slogans against the government and slamming it for suspending Congress MPs.