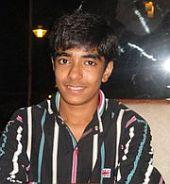 Three weeks since Principal Mahesh Matai found his 16-year-old son dead outside their Ulhasnagar residence, the Mumbai Police is still clueless about the case.

The bereaved father is exasperated that his son's death still remains a mystery for the police.

On the early morning of August 21, Hitesh, a class 12 student of HR college, was missing from his room. The search for the boy ended when his father approached the building gate and found his son's body lying outside the compound on the road.

Hitesh was rushed to the hospital. However, he was declared dead on arrival by the doctors.


"The police were initially looking to register an accident case. I was adamant that a case of murder must be registered and sought the help of local leaders and politicians in this regard," Matai said.


The previous evening, Hitesh had attended a birthday party of his friend Pratik at a local fast food joint, which concluded at 8.30 pm. A hour later he informed his mother that he would be going down to meet his friend, who had called him on his phone. He returned home 30 minutes later.

"When we last saw Hitesh, he was awake till 1.15 am doing his college project work. Later, his mother woke up around 4.30 am and found the main door unlatched and her son missing," Matai said.

Senior Inspector Arvind Patil of Ulhasnagar police station said that as per the autopsy report Hitesh had received injuries on one side of his face, ribs and abrasions on his palms.

"For a death to be investigated as a case of murder, one of the three aspects ought to be known -- the murderer, the weapon and motive. In this case, barring the eyewitness account of a minor boy nothing is known about the cicrcumstances leading to the death of Hitesh," Patil said.

A minor nephew of the watchman guarding the building said that he saw a white car hitting a person outside the building. This has been corroborated by another witness from a neighbouring building who came to her window upon hearing a collision noise.

The watchman and his nephew, who hail from Nepal, have since fled to their native home.

The mobile service provider to which Hitesh had subscribed had submitted the call records details till midnight of August 19.

"We have sent a letter to the mobile company to provide details till the last call was made," Patil said, adding that the police had sent Hitesh's phone which is locked with a password to Forensic laboratory at Kalina to know about his call details preceeding his death.

"Our investigation is focused on trying to find out why did Hitesh leave his house and come down the building in the wee hours of the morning," Patil added.