The AIADMK MP from Thoothukudi explains why he is backing O Panneerselvam as Tamil Nadu chief minister.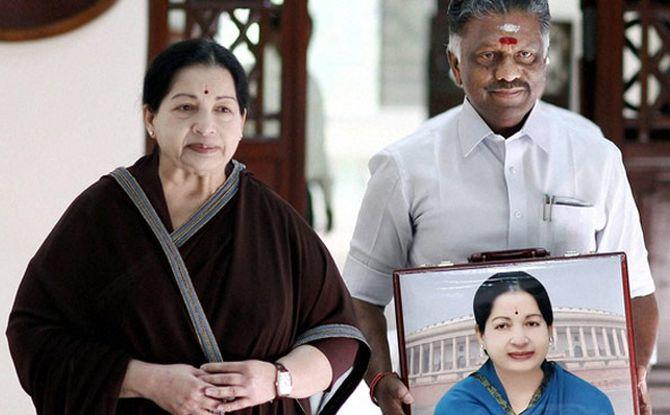 While Ch Vidyasagar Rao, Tamil Nadu's governor who turned 76 on Sunday, waits for the Supreme Court to deliver its verdict in the disproportionate assets case against V K Sasikala and two of her relatives before deciding who to call to form the government, political activity is at an all-time high in the state.
It all started on the night of February 7 when Chief Minister O Panneerselvam went to the Jayalalithaa samadhi at Marina beach in Chennai to meditate after which he raised the flag of revolt against Sasikala's decision to become the CM.
In the days since then, both camps have been claiming the support of party legislators.
While OPS, as he is known, has only a handful of MLAs beside him -- Sasikala has whisked most of them off to an offsite for safe-keeping -- All India Anna Dravida Munnetra Kazhagam members of Parliament have been making a beeline to the CM's camp.
Among them is the first-time MP from Thoothukudi (Tuticorin), J Jayasingh Thiyagaraj Natterjee, who was initially with the Sasikala group, but on Saturday crossed over with five other MPs to the rival camp.
Speaking to Rediff.com's A Ganesh Nadar, he said, "I am supporting OPS because he is a humble man."
"He is a straightforward man and he has governed the state well when he has been in charge, not once, but three times. He has the support of the people of Tamil Nadu. Everyone is speaking in one voice supporting him."
"I am a representative of the people of my constituency. And my people have overwhelmingly come out in support of OPS."
"I have to do what they want and that is why they have voted for me, and they will continue to vote for me only if I listen to them and do what they want."
"My constituency voters want OPS as their chief minister and so I am supporting him."