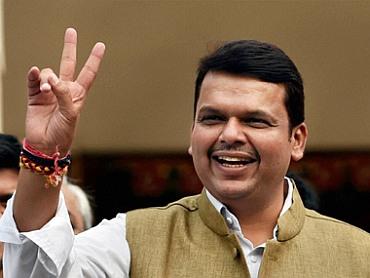 Amid bitterness in ties with ally Shiv Sena, Chief Minister Devendra Fadnavis has fired a fresh salvo questioning the opposition to his decision to provide security to Pakistani singer Ghulam Ali when Sena Chief's family had hosted cricketer Javed Miandad from that country.
The chief minister, at the same time, asserted that that the BJP-led Government in Maharashtra, which completed a year in office on Saturday, will last the five-year term, and downplayed the "bickering" with ally Shiv Sena saying it is bound to happen in a "coalition".
Fadnavis who had disapproved of Sena's protests against Pakistani singer Ghulam Ali, said, "I told (Sena) that there can't be different contours to denote who is patriotic.
"Did Ghulam Ali ever give a statement against India ? He was scheduled to pay tributes to Jagjit Singh. If by providing him security we become Pakistanis, then does that mean that those who hosted Javed Miandad at their home, also become Pakistanis," Fadnavis said.
He was referring to Miandad's visit to Sena founder Bal Thackeray's family residence Matoshree in Bandra in 2004.
After it was cited by the Nationalist Congress Party to attack him, Bal Thackeray had said in 2010 that the meeting was to request that Pakistan players be allowed to play in India which he "rejected".
Speaking at his official residence 'Varsha' in south Mumbai late Friday night after another day of war of words with Sena, Fadnavis appeared unfazed and said, "We will complete our term.
"I am confident Sena will continue to be a part of the BJP-led government despite their recent postures and we will also contest the Mumbai municipal corporation election together."
"We are two separate parties and there's a difference between their thinking and working style. We fought against each other in last year's Assembly polls but the mandate we got was against Congress-NCP," Fadnavis said but not before adding, "had we got 20-22 seats more, we would have been the only party in power."
"There will be agreement on some things and disagreement on some other items," Fadnavis said.
"There's bound to be some bickering. But both the parties understand that this is bound to happen in a coalition government," said Fadnavis, who a few hours earlier had launched a scathing attack on Sena at a civic poll rally in adjoining Thane district.
To a query on intense verbal duel between leaders of both the parties during campaign for Kalyan Dombivli and Kolhapur civic elections scheduled tomorrow, Fadnavis said "these are local elections and won't have any bearing on state politics."
On demand by Opposition to ban right wing outfit Sanatan Sanstha after its activist was arrested in connection with Govind Pansare murder, Fadnavis said, "We will certainly ban it if credible and required evidence is found against the organisation."
On transfer of Rakesh Maria from the post of Mumbai Police Commissioner during the Sheena bora murder investigation, Fadnavis who also holds the home portfolio, said "it is the job of the investigation officer to investigate. The CP's job is to supervise."
"It would have been fine if he would not have gone there (Khar police station where Indrani Mukerjea and other accused were being grilled) so many times," Fadnavis said.
Asked if visits of top BJP leaders including Narendra Modi and Arun Jaitley to Sharad Pawar's home turf Baramati in western Maharashtra, would have any impact on investigation into allegations of corruption against senior NCP leaders including Pawar's nephew Ajit Pawar, Fadnavis said the inquiry won't be affected by these developments.