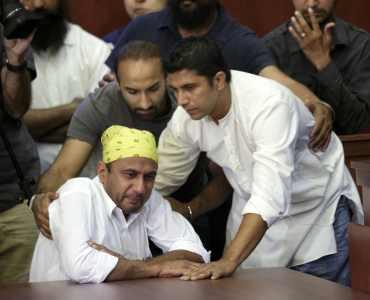 "This is definitely a hate crime," said Pradeep Singh Kaleka, eldest son of Satwant Singh Kaleka, who died while trying to get hold of the shooter on Sunday morning at a gurdwara in Oak Creek, Wisconsin.
Pradeep said he was just a few blocks away on his way to the gurdwara when the shooting happened.
Six people died and a nearly a dozen got wounded at the shooting. According to a police release, the victims have been identified as Sita Singh, 41, Ranjit Singh, 49, Satwant Singh Kaleka, 65, Prakash Singh, 39, Paramjit Kaur, 41, and Suveg Singh, 84.
The shooter was Wade Michael Page, 40, an army veteran who was reportedly involved in the white supremacist movement.
Recalling the last meeting with his father, Pradeep said, "On Friday afternoon, I was playing with my children, while my father was taking a nap. The noise woke him up and he got angry with me."
"We got into a little argument," Pradeep said, adding, "He starting yelling, and I got upset. He thought I wanted to get his attention, but I was trying to get the attention of my son".
"Later, I realised it was my fault and so I should apologise. We made up on Saturday," said Pradeep, who lives just two miles away from his father's residence. He is a teacher at a middle school in Milwaukee.
"He was a man of strict discipline but had a good heart," said Pradeep, adding, "He was a man who would never back down."
"Though I did not agree with many of his philosophies, I will take two things from him -- his bravery and his work," said Pradeep.
Talking about his mother, who always took her son's side whenever he had an argument with his father, Pradeep said, "I always want to make my mother happy. I knew if I apologised, it will make mummy happy. So I apologised more often."
Pradeep has a younger brother Amardeep, who is a producer and lives in Los Angeles. He said their mother will be moving in with him.
"Right now, I am just trying to calm down everyone, especially my mother," he said.
Dr Harcharan Gill, a member of the construction committee at the Oak Creek Temple, said, "Satwant Singh Kaleka built the temple, he died in the temple and will live in the temple."
"We used to meet every other day; we were close," said the veterinarian who has been living in Wisconsin for the past 15 years.
He said Satwant was a religious and hard working person. He had been the president of the temple since 1997.
"We never had any elections at the temple and nobody had any problems with him," said Dr Gill.
"Satwant helped build this temple. He also had the courage to grab the gun.  He will be remembered as a brave man," he said.
Talking about the other victims of the shooting, Gill said Ranjit Singh, Prakash Singh and Sita Singh used to work in the temple.
Prakash Singh had come to Wisconsin just a month ago from India with his family.
"We are thankful that Prakash's children, who were in the lobby when the shooter shot one of the priests, shouted out there was a gunman, alerting other worshippers and saving several lives," he said.
"They are in shock and we have to support the family. We hope the community will help them financially," said Dr Gill.
"Until now, we thought that places like convenience stores are not safe, we never thought such incidents could happen in religious place. Now nothing is safe around here too," said Devender Singh, who runs a gas station in Wisconsin.

Image: Harpreet Singh and Amardeep Kaleka, whose father, temple President Satwant Kaleka was killed, cry during a news conference in Oak Creek, Wisconsin | Photograph: John Gress/Reuters