Tribal rights activist Soni Sori, who was attacked with an acid-like chemical in Chhattisgarh last month, has said that the condition of her face is reflective of the fight in Naxal-hit Bastar area.
Tribal activist and Aam Aadmi Party leader Soni Sori addressing the agitating students on the JNU campus in New Delhi on Monday. Photograph: Kamal Kishore/PTI Photo
"My face today is the face of the fight in Bastar, the condition is the same. I was also jailed in a fake case of being associated with Naxalites, the same way he (Kanhaiya) has been framed for his so-called terrorist links. I am glad that JNU has started this massive movement which helped in getting bail for Kanhaiya," Sori said while addressing JNU students.
Sori, was introduced by Kanhaiya to the audience at the varsity's administration block, which has been the venue of protest ever since the students union president was arrested in a sedition case over an event against hanging of Parliament attack convict Afzal Guru during which anti-national slogans were allegedly raised.
"Government will not say anything when women are raped by policemen but in this case they applied all their tactics but could not find a single evidence against Kanhaiya. But JNU students have always expressed solidarity with my fight since 2011," she added.
Sori, who had unsuccessfully contested the 2014 Lok Sabha polls on an AAP ticket, was brought to the capital by the party and taken to the hospital as the local doctors were "unable" to identify the chemical and treat her.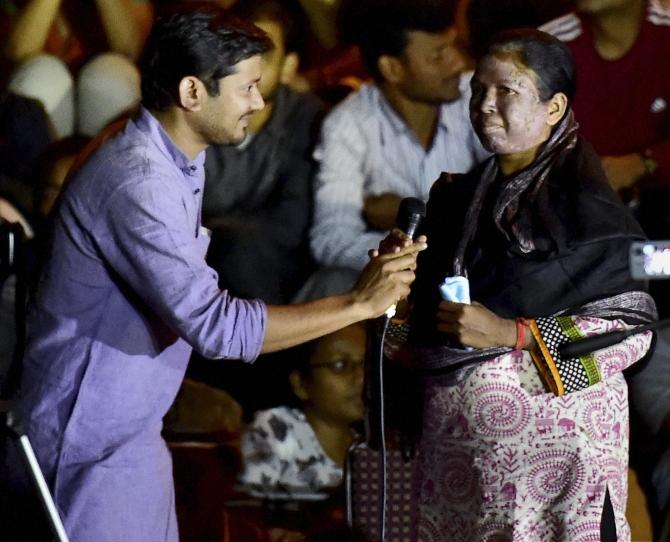 JNUSU President Kanhaiya with Sori at the JNU campus. Photograph: Kamal Kishore/PTI Photo
The 44-year-old Adivasi school teacher was arrested by the Delhi Police's Crime Branch for Chhattisgarh Police in 2011 on charges of acting as a conduit for Maoists.
During her imprisonment, she alleged that she was tortured and sexually assaulted by Chhattisgarh state police. By April 2013, the Indian courts had acquitted her in six of the eight cases filed against her due to lack of evidence.
When the agitation for Kanhaiya's release was going on, a group of JNU students had burnt the effigy of Chattisgarh Chief Minister Raman Singh condemning the attack on Sori.