'Brajesh Thakur spoke to half a dozen Union ministers, some Bihar ministers and Manju Verma's husband between the process of lodging the FIR against him on May 31 and his arrest on June 2.'
M I Khan reports from Patna.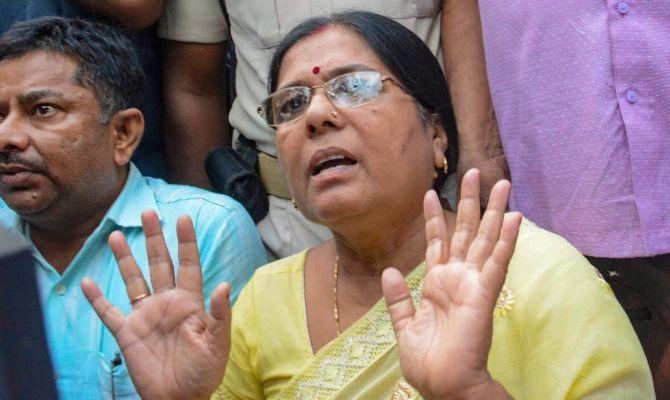 Under fire over the sex-scandal at the state-funded Muzaffarpur shelter home, Bihar Social Welfare Minister Manju Verma handed over her resignation to Chief Minister Nitish Kumar on Wednesday.
Sources in the Chief Minister's office said Verma met Kumar and submitted her resignation letter to him.
The Opposition had been continuously gunning for her head following allegations by the wife of an arrested accused from the department that Verma's husband was a frequent visitor to the Muzaffarpur shelter home, where 34 girls were allegedly raped over a period of time.
After initial reluctance to talk to media, Verma said she resigned on moral grounds after media reports that examination of mobile phone details of Brajesh Thakur -- the main accused in the case -- showed that he had spoken to her husband 17 times from January to June this year.
The Central Bureau of Investigation, which is probing the case, has reportedly obtained evidence of her husband Chandrashekhar Verma's association with Thakur.
The CBI is studying the call detail records for three mobile numbers Thakur used before he was arrested.
"Thanks to the CDR, there is evidence that Brajesh Thakur was in touch with Manju Verma's husband, whose whereabouts are not known," a senior police officer told this correspondent.
The CBI on Wednesday seized bank accounts of Thakur and is also investigating his properties.
Hours after her resignation, Verma said her husband is innocent and demanded the Patna high court, which is monitoring the probe, to bring out call detail record of Thakur in public.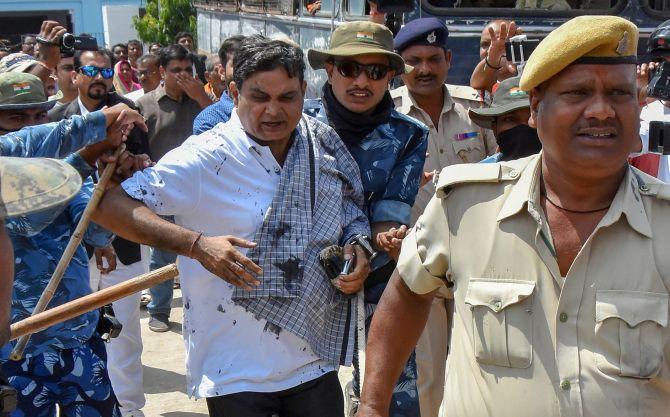 "My husband will be proved innocent," Verma said.
"I request that all CDRs of Brajesh Thakur available with the CBI should be made public. If my husband is guilty then everyone who spoke to Thakur should be guilty," she said.
"The CDR should be brought out to make it clear whether my husband was the only one who was talking to Thakur or were there other people too," she said.
Verma said action should be taken against all those whose names figure in the CDR.
She expressed anger over repeated demands of her resignation by the Opposition and media.
Speaking to media from a prison van in the court compound at Muzaffarpur, Thakur admitted that he used to speak to the minister's husband, Chandeshwar Verma, but it was 'on political issues'.
Meanwhile, a woman blackened the face of Thakur when he was produced in the local court on Wednesday.
When the local police tried to detain the woman, they were opposed by protestors present on the court premises. The protestors, it is learnt, were from Pappu Yadav's Jan Adhikar Party.
Thakur told reporters in the court premises in Muzaffarpur that he was being framed and that he has no relationship with Manju Verma or her husband.
"I am being framed," Thakur claimed, speaking in Hindi, "because I wanted to fight the election from Muzaffarpur."
"I am not involved in the case," Thakur, who owned the shelter home where the girls were allegedly molested, said, adding, "I have no relationship with Manju Verma."
He also refuted any relationship with Madhu Kumari, another accused in the case who is absconding after the police filed a first information report.
Madhu Kumari is said to be the 'mystery woman' who may have incriminating information about Thakur.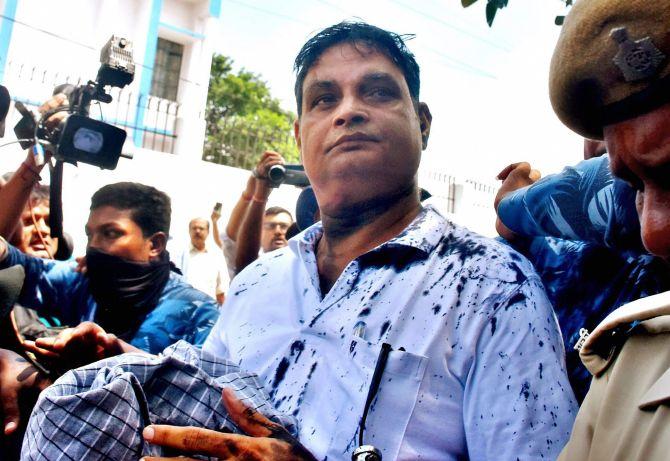 Chief Minister Nitish Kumar was under immense pressure from the opposition parties as well as his ally, the Bharatiya Janata Party, to take action against Minister Verma, who is a member of his party, the Janata Dal-United.
No action against the minister in the wake of the shelter home horror episode had been bringing a bad name for the CM as well his government across the country.
Rashtriya Janata Dal and Congress politicians have alleged that Chandrashekhar Verma often visited the Muzaffarpur shelter home and his wife knew about these visits.
"Thakur spoke to half a dozen Union ministers, some Bihar ministers and Manju Verma's husband between the process of lodging the FIR against him on May 31 and his arrest on June 2," a police officer said.
Verma, who till Monday denied any links with Thakur, has now admitted that he used to telephone her home.
She said her husband had visited the shelter home only once and that too in her presence.
'We are politicians and in public life, several people call us. We have to talk to them. It is simple,' the minister said.
She had also said that she was being targeted because she belonged to the Kushwaha caste, an OBC group.
An MLA from Cheria-Bariarpur constituency in Begusarai district since 2010, Verma was minister in the NDA government headed by Nitish Kumar from JD-U quota.
Rejecting the Opposition's demand to sack Verma, Nitish Kumar had virtually given her a clean chit on Monday.
'I asked her, but she denied her involvement,' the chief minister told reporters, 'The CBI probe is underway. Anyone found guilty will be sent to jail. No one will be spared.'
The CBI on Tuesday quizzed Raju Kumar, Thakur's driver, and scrutinised his mobile phone.
The Bureau took serious note of reports that Thakur has been resting in a Muzaffarpur hospital after his arrest and is not in jail.
The CBI has sought a report on Thakur's condition from the Muzaffarpur jail authorities.
Meanwhile, a watchman of Madhubani shelter home, from where the Muzaffarpur shelter home case's main witness went missing, has been arrested.
With PTI inputs