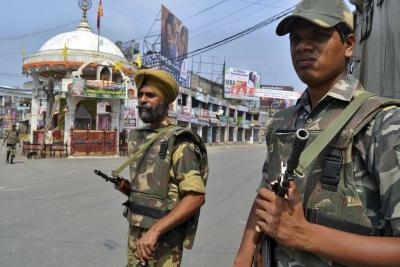 Curfew was on Tuesday relaxed for over two hours in three areas of trouble-hit Muzaffarnagar in Uttar Pradesh even as the death toll in the clashes in the district and adjoining towns climbed to 40.
With no reports of any fresh violence, curfew was eased for two-and-a-half hours from 3.30 pm in Kotwali, Civil Lines and Nai Nandi areas, district magistrate Kaushal Raj Sharma said. The district administration had clamped curfew on Saturday following incidents of communal violence.
"The death toll in Muzaffarnagar has risen to 34," Additional Director General of Police (law and order) Arun Kumar said, adding one person died in Sekeda.
Home Secretary Kamal Saxena said while two deaths have been reported from Meerut, one each has been reported from Hapur, Baghpat, Saharanpur and Shamli. Eighty-one people have been injured in these districts and 366 people have been arrested, he said while claiming that the situation was "under control".
Officials said curfew could be further relaxed to four hours on Wednesday. Sending out a stern warning, UP Chief Minister Akhilesh Yadav said, "The state government would deal strictly with all those who have tried to create communal chasm and harm the atmosphere of Muzaffarnagar and the state."
"It would be our efforts that communal amity is strengthened and the areas where situation has been brought under control no new incidents are allowed to take place", he told reporters after a state cabinet meeting here which took stock of the recent developments.
"We have got information that many people have left there homes and villages and collected elsewhere and they have to return...it would be my appeal that brotherhood should remain intact", he said.
In Agra, SP chief Mulayam Singh Yadav defended the state government. "The government did everything to control the violence. It was stopped in two days. The security forces dealt with the problem very effectively," he told mediapersons.
"Whatever happened is the result of caste conflict," he said. Curfew remained in force in other areas. Army patrolled the troubled areas in Muzaffarnagar, Shamli and Meerut, Saxena said. Prohibitory orders are being enforced strictly and a close watch is being maintained on mischievous elements, he said.
Image: Soldiers stand guard on a deserted street during a curfew in Muzaffarnagar
Photograph: Reuters