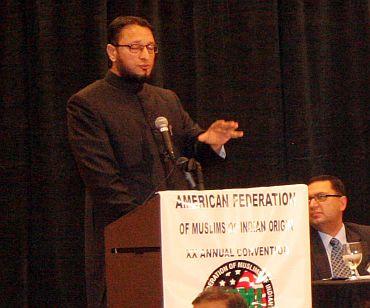 Pluralism, democracy and minority rights were the focus of discussion at the American Federation of Muslims of Indian Origin's two-day 20th annual convention, held in Detroit.
Over 600 people from across North America attended the event.
The main speakers were Javed Akhtar, Bollywood writer and recently appointed member of the Rajya Sabha; Asaduddin Owaisi, member of the Lok Sabha in India's parliament from Hyderabad and president, All India Majlis-e-Ittehadul Muslimeen; United States Representative Gary Pet ers from Michigan; and Suhail Tirmizi, counsel for Gujarat riot victims.
Owaisi felt the verdict on the Ayodhya issue by the Allahabad high court has harmed India's reputation as a country governed by the rule of law and it is in the national interest to take the matter to the Supreme Court.
Owaisi, an alumnus of Britain's Lincoln's Inn, said the court has treated a deity, Ram Lalla, as a party to the suit but the Babri Masjid was not accorded the same legal standing.
He said the court relied on a 'dubious' 2004 report by the Archaeological Survey of India. He said the Indian Muslim community's reaction should not be mistaken for acceptance of the verdict.
"We are absorbing the pain as a mature and responsible community," he said. "We have matured as a community and will work within the legal framework. Muslim voters are going to teach a lesson to those responsible in the upcoming elections of Bihar, Assam, and Uttar Pradesh. What if the Jains and Buddhists start demanding a return of their temples and viharas which were demolished and where now Hindu temples stand?" Owaisi noted.
Hailing India as a great civilisation superior to that of China, Owaisi said it is vital for everyone concerned to take a principled stand on the Ayodhya issue.
Akhtar felt India as a nation should move on and concentrate on more relevant issues. He said fundamentalism of any kind is an impediment in advancing the welfare of the downtrodden.
He hailed Indian secularism and said it should be sustained at all cost. He criticized the Muslim leadership for opposing Indian Human Resources Development Minister Kapil Sibal's attempts to modernise Indian madrassas.
Owaisi responded, saying Muslim leaders including himself have opposed Sibal on the principled stance that there should be no undue interference in madrassas as their objectives are different from those of regular schools.
Owaisi said the proposed project was irrelevant to the overall development of Indian Muslims because, as pointed out by the Sachar Commission report, only 3 percent of Muslim students go to madrassas. If the government is really serious about development, he added, it should open more schools in Muslim areas.
At the convention, Akhtar received the AFMI's Pride of India Award for his contributions to Urdu literature and for his work as a poet, lyricist and scriptwriter.
Owaisi received the Excellence Award for his 'visionary leadership and effective representation of a minority, especially those of Muslims, in the Indian Parliament.'
Suhel Tirmizi was awarded the Excellence Award for his 'unparalleled commitment and courage to seek truth and justice for Gujarat violence victims, and for standing up against the forces of terror.'
Victor Ghalib Begg, community leader in North America, was given the Excellence Award for his 'outstanding services in promoting understanding of Muslims and Islam through interfaith dialogue in the United States of America.'
AFMI President Dr Iqbal Ahmed and convention Chairperson Rizwana Khan also received appreciation awards.

Other speakers at the convention included Professor Zafar Khan, S M A Quraishi, Dr Sirajuddin Hashmi, Imam Sallie, Dr Abdullah Abdullah, Dr Aslam Abdullah, Dr Hussain Nagamia, Ashfaq Quraishi, Dr Syed Samee, Dr Shakir Mukhi, Dr Tajuddin Ahmed, Rizwana Khan, and Datta Padsalgikar.
Image: Asaduddin Owaisi addresses the gathering in Detroit