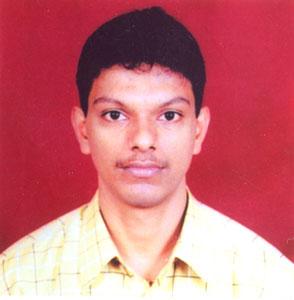 Vijay Khandekar joined the Mumbai police force as a callow teenager. He was just 19 when he replaced his father, Madhukar Khandekar, in 1992. Posted at the Azad Maidan police station since 2004, Vijay was killed on November 26 in the encounter with terrorists at the Cama Hospital.
Vijay was a constable attached to the arms division and worked as a wireless operator. "I had applied for leave and was at home that day," says Prakash Shishupal, a colleague. "I got a call from the police station that there was firing at Colaba and near the Metro junction. Vijay was our operator. He conveyed information and instructions through the wireless."
Additional Commissioner of Police Sadanand Date remembers how he, along with Vijay and Prakash More, a police officer from the L T Marg police station, entered Cama Hospital that night.
They discovered two bodies of the hospital security staff. On learning that the terrorists were on the hospital terrace, the trio proceeded in that direction. To locate the terrorists, Date threw a stone and the terrorists responded with gunfire.
"Now we knew their position," recalls Date. "Because the police fired back, the terrorists knew our positions and threw four grenades. We were injured and Vijay lost his life."
"He was a very homely man," recalls Shraddha, his wife of six years; Vijay and Shradda have a four-year-old daughter, Samruddhi.
Sitting alongside her mother-in-law who could not control her tears, she recalls that horrific night. "I last spoke to him at 10:30 pm on November 26. He worked on the night shift on alternative weeks and it was his turn that week. Our daughter wasn't feeling too well so I took her to the hospital and left before he did. I didn't even see him when he left," recalls Shraddha.
Satish Nimbalkar, a co-worker, remembers Vijay as a very helpful individual who was prompt at his work. "He had presence of mind and had a good sense of humour. We used to have lunch together and even today I think he sits with us for lunch."
Vijay's place as the wireless operator at the Azad Maidan police station has been taken by another constable. "We have two operators. Ajit Supal comes in the morning; we have replaced Vijay with Anil Kadam. Our work must go on," says Nimbalkar.
Shraddha has received a compensation of Rs 25 lakhs (Rs 2.5 million) and will continue to receive the salary her husband drew till his retirement. "The (housing) quarter we are living in is for a three year term. After that we have to take permission for extension," she says.
"My daughter is all I have," adds Shraddha. "My husband had great ambitions for her. Now I'll have to fulfill his dreams."