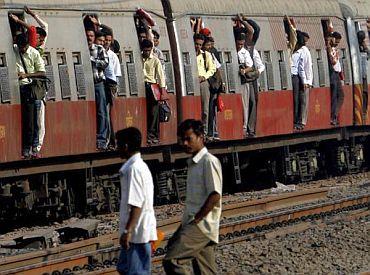 The future of Mumbai's 7 million local train commuters lies in the hands of Railway Minister Mamata Banerjee.

Commuters can expect better services if Mamata accepts the draft recommendations prepared by Action for Good Governance and Networking in India aimed at improving the quality of travel in the suburban routes.

Six Members of Parliament from Mumbai will be meeting the railway minister with the list of recommendations.

The list of demands include better interconnectivity of locations in Mumbai, better (read as clean and hygienic) toilet facilities -- particularly for women, and formation of panels at railway station level to facilitate communication between the commuters and the local station administration among other things.

The lawmakers met railway officials in Mumbai on Tuesday at the Mumbai suburban collector's office.

Congress MP Priya Dutt, who took the initiative for organising the meeting, said recommendations to be endorsed by all the six MPs of Mumbai would be presented to the railway minister so that it may be incorporated in the forthcoming railway budget.

Former Mumbai municipal commissioner D M Sukhtankar and Editor-in-Chief of Loksatta, Kumar Ketkar presented the draft recommendations

to the MPs and railway officials.

"Interconnectivity is a big problem in Mumbai as the network is linear. If I want to go from Mulund to Goregaon by train then I will have to go through Dadar and there is no direct link between the two places," he said.

Ketkar informed that in the last two decades the number of women passengers on the Mumbai suburban route had increased by 40 per cent. "However, toilet facilities to complement the growing women commuters are not adequate. The existing toilets for women lack cleanliness and hygiene," he added.

He said at present there was no interaction between commuters and authorities managing the stations. "We suggest that committees to be setup that would meet on a monthly or quarterly basis where the commuters can air their grievances to the officials managing the station," Ketkar said.

Stating that the committee would give commuters an opportunity to vent their grievances, he observed that this would prevent commuters from turning violent and damaging railway properties besides causing inconvenience to other commuters.

On the recommendations of the segregation of tracks, Mumbai Rail Vikas Corporation managing director P C Sehgal informed that the work of laying two additional tracks on the western and central railway was already in progress.