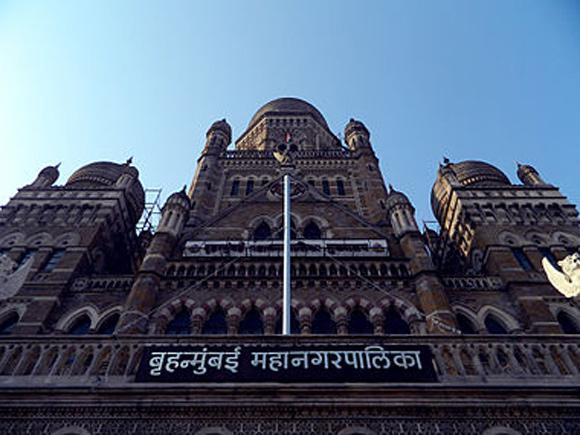 Mumbai Mayor Vishwanath Mahadeshwar allegedly threatened a civic official with suspension for taking action against illegal roadside stalls in suburban Bandra.
A clip purportedly containing audio of the Shiv Sena Corporator threatening to suspend the official has gone viral.
Mahadeshwar, however, rejected the charge that he intimidated the officer, and claimed he only wanted to know from him how a few stalls doing business since the last 40-50 years suddenly became illegal.
As per the conversation in the audio clip recorded by the officer, Mahadeshwar on Thursday purportedly questioned him in Marathi as to why notices were served to the stall owners who were doing their business since decades.
The mayor was also heard accusing the official of 'harassing' the stall owners because they were from a particular community. Mahadeshwar then ordered the official to come to his office along with his seniors.
The official, identified only as Jitendra, was heard requesting the mayor to speak to his seniors, saying demolition of the stalls, who violated the terms of the licence, was undertaken as per their orders.
Bharatiya Janata Party MLA Ashish Shelar disapproved of Mahadeshwar's conduct. The MLA from Bandra said the mayor first opposed a public toilet built by the Brihanmumbai Municipal Corporation in the same area and is now supporting the stall owners who had flouted norms.
"The BMC officials removed the stalls on the basis of public demand and their investigation reports. This action (of removing illegal stalls) is essential for smooth flow of traffic," he said.
When contacted, Mahadeshwar said he had spoken with the official, who dealt in issuing licences to hawkers, but said his conversation was 'misinterpreted'.
"Yes. I did speak to the official on the phone to know what's happening. Let me clarify that I support the action against illegal activities. But I wonder how a few stalls can become illegal suddenly when they were doing business since the last 40-50 years," the mayor said.
Asked if he would seek action against the official for recording his conversation without his knowledge, Mahadeshwar said, "I don't want to comment on this."
Meanwhile, Mumbai Congress president Sanjay Nirupam defended the mayor's questioning of the official.
Nirupam, who has gone to the court to protect the rights of hawkers, said, "The mayor did nothing wrong by enquiring about the action taken against the stalls operating for 50 years. I would urge the BMC commissioner to take action against illegal structures without any bias."