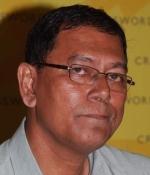 A senior investigative journalist, who extensively covered underworld and crime for over two decades, was shot dead in broad daylight on Saturday by four motorbike-borne persons who pumped bullets into him from behind at close range in suburban Powai.
Jyotirmoy Dey, editor (special investigation) with an English tabloid Mid-Day, was riding his motorcycle when he was gunned down in a daring attack that shocked the media fraternity.
Dey was shot dead by unidentified persons in Powai at 3.30 pm, Joint Police Commissioner (Law & Order) Rajnish Seth said.
The city police's Crime Branch, which usually probes underworld and serious crime incidents, has taken up the investigation.
According to Additional Police Commissioner (West) Vishwas Nagre Patil, four persons on two motorbikes fired at least four to five rounds at Dey, who was also riding a bike, from behind on Saturday afternoon near Spectra Building at D Mart in Hiranandani area of Powai.
After the attack, he was rushed to the nearby Hiranandani hospital where he was declared dead before admission, Patil said, adding the shooters fled the spot after firing.
"Nine wounds were found on his body," he said adding, "Probably four to five bullets must have been fired taking into account entry and exit wounds."
"We are probing the matter from all angles," he said.
Mumbai Police Commissioner Arup Patnaik said later in the evening, "He (Dey) was hit by eight bullets and all of them at one place, mostly near the chest."
Patnaik said the killing was an "organised crime" executed in a professional manner.     
Patnaik added that only a post-mortem of the victim would determine the exact number of bullets that hit him.
Commissioner Patnaik said, "It (the killing) is a job done professionally. We are conducting an investigation on the lines that it is done by an organised syndicate."
"The case has been given to the Crime Branch from the beginning because it is a matter of a veteran journalist and I think this incident is the first of its kind. We are taking this case seriously," he added.
Chief Minister Prithviraj Chavan said Dey had not communicated to authorities any threat to him and suggested no one should "jump to any conclusions." 
State Home Minister R R Patil also said Dey had not made any complaints regarding any threat to his life.
Mid-Day Executive Editor Sachin Kalbag said Dey had not spoken to him about any danger to his life.
However, police sources said Dey, who recently ran a series of stories on the oil mafia, had received threats from anti-social elements. He had also written two books on oil mafia and the underworld.
Dey, who had previously worked with the Hindustan Times and the Indian Express, is survived by his wife Shubra, who is also a journalist.
"We are verifying his mobile phone records and will record the statement of his family members, who reside in Ghatkopar," a police officer said.
The assailants appeared to be young, Vishwas Patil said, adding the police was ascertaining if their movements had been captured by the CCTV cameras placed at nearby buildings.
Expressing shock over the killing, Public Works Department Minister Chhagan Bhujbal said the journalist did not 'target' any gang or mafia in particular.
Asked if the killing could be linked to elements from the underworld or the oil mafia, Bhujbal, a former home minister, said, "Dey was a very honest person. He used to write on the underworld. He was not targeting anyone in particular, whether any gang or any (oil) mafia".
Kalbag said the killing of Dey was a tremendous loss to the newspaper. He said Dey was called a "guru" by budding crime reporters for his investigative reporting skills.
He said it was too early to ascertain the motive behind the killing.
 "Let us not sensationalise the fact that he was working on a story on the underworld. Other newspapers too were working on this," Kalbag said.
Dey was believed to be working on articles on wanted gangster Dawood Ibrahim.
Chhagan Bhujbal said Dey's killing appeared to be pre-planned.
"The way he (Dey) was killed with bullets, it is well planned. Some mafia will be behind it," he said.
The books authored by Dey were titled Khallas (finished), considered a comprehensive write up on the Mumbai underworld, and Zero Dial, on the world of police informers.