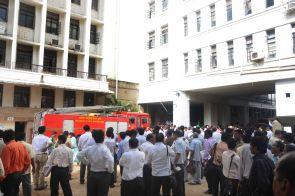 Two years after a devastating fire in the state secretariat claimed five lives, panic revisited the Maharashtra administrative headquarters on Monday when fire broke out on the first floor of the annex building in Mumbai but there were no casualties.
The fire broke out due to a short circuit outside the office of Social Justice Department Secretary R D Shinde and Minister of State for Tribal Affairs Rajendra Gavit at around 1545 hours.
The secretariat complex was immediately vacated and power switched off.
"Though the fire was minor, we rushed 3 fire engines, 2 water tankers and one jumbo tanker at the spot to avert the possibility of any mishap, a senior fire brigade official told PTI.
Parliamentary Affairs Minister Harshvardhan Patil told reporters that the short circuit was a minor one.
"The defect was brought under control by cutting off the exposed wire," he said.
The fire on June 21, 2012, left five people dead, apart from causing extensive damage to the six-storey building.
Photograph: Sahil Salvi