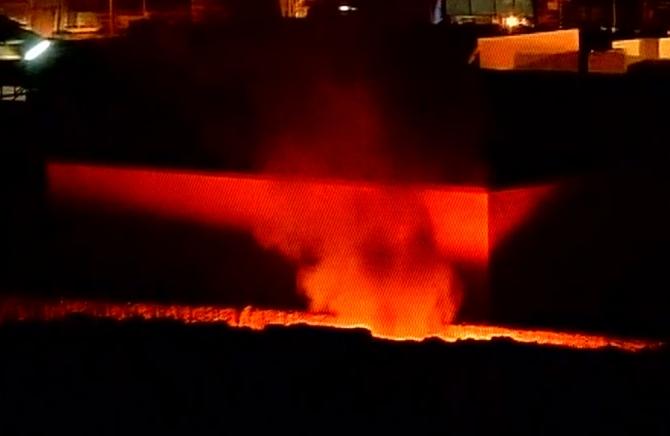 Terming as a "serious" issue the fire at the Deonar dumping ground in Mumbai which is emitting toxic gases, Environment Minister Prakash Javadekar has said that a two-member special team will be sent to investigate the incident.
Javadekar, who held a telephonic conversation with the Commissioner of Mumbai on the issue, blamed the fire on the "callousness" of the contractors in charge of managing the dump yard and said action will taken against the violators.
Asked if there was a possibility of a "sabotage", he said it will be clear once the team submits its report after their investigation.
"Fire at dump yard which is emitting toxic gases is a serious issue. This shows callouness on the part of contractor and those who are involved in the operations of managing a dumping waste.
"We are sending a two-member special team this evening to the dumping site and our team will give full report within a week. I have discussed it with Commissioner of Mumbai and will discuss with Chief Minister Devendra Fadnavis as soon as the report is ready," he said.
Fresh smoke was again witnessed this morning at the Deonar dumping ground after the fire which broke out two days ago intensified last evening.
Even as cooling operations are underway to bring the raging fire under control, toxic smoke engulfed Govandi's Shivaji Nagar, some parts of Mankhurd and Zakir Hussain Nagar and Baiganwadi area causing discomfort to people living there.
This is the second massive fire in the area in less than two months. A massive fire had broken out at the dumping yard, spread across 326 acres, on January 27 leading to a thick blanket of smog in various parts of Mumbai.
Javadekar said that last year, he had visited three dumping sites and seen the kind of steps taken to avert such incidents and the risks involved.
"We (environment ministry) will give appropriate advise and directions to state government and Mumbai corporations and also will ask them to take stern actions against violators. This is a a big issue," he said.
He said that his Ministry is issuing the new solid waste management rules within a fortnight which will give the solution for all waste collection.
"Decentralised waste collection and utilisation, segregation and its recycling are the way forward," he said.