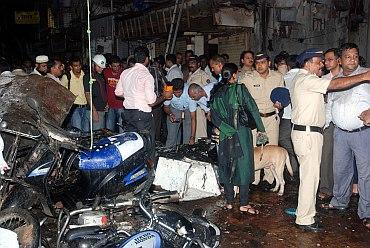 Abhishek Das is 14 years old. One night last month, he confronted unspeakable tragedy when he learnt that his father Baburam Das died in the bomb blast at Zaveri Bazar in Mumbai on July 13.
 
Abhishek reveals how he and his family are trying to cope with their loss.
 
I started going to school 15 days after my father's cremation. I had to perform all the rites and rituals that I was required to do after my father's death. Currently, I am appearing for my Class IX unit test examination. Tomorrow is my last paper, Algebra.
 
I have fared theek-thak (neither very good nor very bad) as I could not focus on my studies. I couldn't find enough time to study. Ever since I lost my father my family has been seeing a steady stream of friends and relatives from various places.
 
However, I am sure I will score enough marks to pass the examination comfortably.
I am not sure if our lives have returned to normal. If I am able to focus on my studies I am sure life will return to normal in the coming days. The only worry that my family and I have today is that I don't have to give up my studies for any reason.
I worry about my mother. While I have managed to take control of myself, she is apprehensive about my future and finds it difficult to cope with the void in her life.
She has not been keeping well after an operation she underwent some weeks ago. When my father was alive he used to cook for us when my mother would take ill. Now, my grandmother (father's mother) cooks when mother is unwell.
I know I am too young to comprehend the challenges I have to face in my life. But I will understand them as time goes by and perhaps learn to cope with them and manage them.
After my father's death I know my responsibilities towards my family have increased. Even under these circumstances my biggest challenge will be to concentrate on my studies and strive for a good education.
I always aspired to be an engineer, but now after my father's death, I will take it as it comes.
Under the present circumstances, I am not sure if my family has enough money for me to study engineering.
My father always wanted me to make a career in a subject that interested me and in which I could do better.
I don't know how to react to the fact that the police have still not been able to crack the bomb blasts case even after 30 days. If the aam aadmi had as much protection as Ajmal Kasab does, such incidents (bomb blasts) would be difficult for terrorists to execute.
I do hope that our lives become normal gradually. We all try to get on with our lives, but I know it won't be easy. That will be a challenge for my family.
My mama (mother's brother) takes care of our financial needs. He was the one who was with my father from the night of the blast till he breathed his last.
Those who wish to help Abhishek Das and his family can contact his uncle Shrikant Parui, on +91-9322704012.
As told to Prasanna D Zore.